Tokina FiRIN 20mm F2 AF Review
Optical Design Graphs of this review were taken from the official Tokina website (www.tokinalens.com).
All other material (photos & videos) of this review were captured by Christophe Anagnostopoulos.
*June 23, 2018 -> First Impressions Mini Review was published.
**May 15, 2019 -> Adobe released a lens profile for FiRIN 20mm AF in the May 2019 update of LR Classic 8.3 / Camera Raw 11.3.
***UPDATE October 23, 2020 – The First Impressions Review has been totally revised and updated with new data, photos and videos after two years of shooting with magnificent lens!*

***

Reading Time:

30

minutes

***
Intro
Back on 2016, when I was filming for the production of "Keep Looking Up", Tokina announced their first E-Mount lens, the Tokina FiRIN 20mm F2 MF.
A premium wide angle lens with a bright f/2.0 aperture, a great option for astro and low-light photographers using E-Mount systems as the available wide angle lenses for E-mount users at the time was very limited.
The lens was released in early 2017 and I managed to get the lens on time to include it on the production of "Keep Looking Up", creating some of the most beautiful sequences of that project.
Moving forward by one year, at the start of 2018, Tokina releases the Autofocus version of the FiRIN 20mm F2 lens, an updated version of the MF version, with AF mechanism.
At Spring 2019 the principal photography of my award winning short documentary "Forest of Tranquility" begins and the Tokina FiRIN 20mm F2 AF becomes my major filming workhorse, providing excellent results and performance in real time video filming inside the forests of Epirus, Greece.
October 2020 – As I'm writing the updated version of this review, the very difficult for all mankind year 2020 is at last coming to an end (no Covid19 Vaccine yet..), and the FiRIN 20mm F2 AF lens is still my go-to lens for everything!
Total Views: 8,632
Daily Views: 1
Video and Timelapse Samples with Tokina FiRIN 20mm F2 AF lens

Long Term Review?
The most obvious question someone might ask is why I decided to come back to a 2 years old review of a 2 years old lens.
Well, the reason is very simple.
My First Impressions Review was exactly that, a first impression mini review and nothing else.
By using this magnificent lens almost daily in both my commercial and personal work, I felt that the previous review was not presenting correctly the characteristics of it, as a lot of information were missing, and the image samples were simply…ok… I guess..
With this updated and 100% revised version of the review, I would like to share very honestly all my thoughts on this (market underrated) fantastic lens that has become my (1 of 2) all time favorite (along with the Tokina opera 50mm F1.4).
Focal Length 20mm
The focal length of 20mm was always my favorite as it is not so wide to distort objects, and on the same time is wide enough to capture all the necesary elements in the frame.
Back at 2019 when I was looking for a new mirrorless camera after I sold the Sony A7RmkII due to its strange color science, I always kept in mind that the new camera must support this lens no matter what.
After checking online that an E to Z Mount electronic adapter will be available for the Nikon Z cameras, I decided that this was probably the perfect choice at the time, as I would be able to use this fantastic lens with the great (for my liking) colors of Nikon cameras.
And now, after 1.5 years since buying the Z6, I can honestly tell you that this combination is marvelous!
The focal length of 20mm is very versatile and super creative as with the right use, it can be used for almost every photography/videography genre like astrophotography, landscape, real estate, travel, vlogging, wedding and timelapse!
With its constant F2 aperture, and its superb sharpness across the frame even wide open, this lens is possibly one of the best lenses that I have ever used.
Now that Sony color science is improved and for sure it came more close to my personal likings, a new Sony A7 (Siii) will very soon join my FiRIN 20mm F2 AF lens as my go-to combo.
Build Quality, Lens Handling & Design
The FiRIN 20mm F2 AF lens has a very modern and sleek design following the guidelines and standards of all the new Tokina lenses of the last three years.
The lens is made in Japan with the highest quality standards, and its metallic housing has a premium looking subtle matte black finish.
It feels more robust comparing to the MF version, probably due to its design and not having more rings on the body, and after 2 years of usage in all weather conditions, from heat to rain and snow, I can honestly say that it can withstand the weather* elements without issues.

*Please note that the lens was constantly on my camera bag and have been used outdoors almost daily, so any cosmetic markings are totally natural due to usage.
Size
Due to its metal construction the weight of the lens is 465g without the lens hood and front/rear caps, and it's physical size is 74mm x 81mm.

In terms of size and weight it is very similar to the MF version, although the AF version is bit lighter and a little smaller than that.
The lens is relatively small and lightweight which practically means that you can easily leave it attached on your camera all day without tiring, fitting nicely on all Sony Alpha cameras, either FX or APS-C.
Size comparison with Sony 28-70mm 3.5-5.6 kit lens
Mount
The mount is made of metal and the electronic contacts are providing full compatibility with the camera body, which means that EXIF and distance information data, Eye AF, 5-axis Image Stabilization, Focus Peaking are working perfectly.
There is no dust protective ring on the back (that would be a great addition), however there is a silk protective fabric in the area between the mount and the rear element that will gather any dust.
In terms of using it with TZE-01 adapter, everything is working perfectly, making it feel like a native Z mount lens.
Sony Licenced
Please note that Tokina FíRIN series lenses (as also atx-m series lenses) are developed and manufactured in accordance with Sony-licensed specification, which ensures the highest quality and performance with latest functions.
Practically it means that no reverse engineering has been used.
Lens Hood
The AF version comes with a useful lens hood, but it lacks the impressive to the eye "cine" like rectangular hood of the MF, which was a nice feature, although not practical for storage (due to its physical size) and usage as you weren't able to use i.e. circular filters with ease.
The BH-623 Lens Hood is a normal circular one so you can easily use your filters with no issue when attached and also it can be stored in the lens by attaching it on reverse.
Despite being relatively small, it can protect the front element from unwanted hits or scratches, and also to prevent unwanted artifacts from incoming light.
*Testing Notes*

All indoor tests took place in my photography studio in a controlled lighting environment.
Dedicated lighting scenarios were created depending the needs  of each test.
The Lab Chart Test is "ISO 12233".
Other Tools used: i) SpyderCheckr24 & ii) Spyder LensCal.
The following cameras were used for the tests of this review: I) *Nikon Z6 (via TZE-01 adapter), II) Sony A7R mkII , III)Sony A7 mkII and IV) Sony A5000.
*Please note that Tokina FiRIN 20mm F2 AF lens (as also any Tokina E-Mount lens) was not developed to be used with Nikon Z cameras so manufacturer does not guarantee lens performance when third-party mount adapters are used.*
However, my main camera these days is the Nikon Z6 (with the Techart TZE-01 adapter) and this is the reason I decided to share this information, hoping that it would be useful to Nikon users as well.
Autofocus in Photography
The Ring Shaped Ultrasonic Auto-Focus Motor system, coupled with GMR Sensor, is fully compatible with the Fast Hybrid AF system of Sony Alpha.
In terms of AF performance it is relatively fast and accurate (in AF-S) in good lighting conditions but it is a little noisy and sometimes distracting, in example if you are photographing a wedding ceremony and have the camera in silent mode, the focus mechanism will be slightly heard.

Also I have to mention that the focus mechanism is noisy even when you manual focusing and the ring is rotated by hand and not by the camera.
So when you want to record video even if you manual focusing, you will possibly also record the sound of the focus mechanism.
When lighting conditions are not optimal, or at low light, the focusing speed reduces slightly, but that also depends on camera abilities as well.
However, due to lens nature (focal length and field of view), for most situations it can be focused one time at infinity and then be used in example on a gimbal for creating a travel video with great results and no AF issues.
Actually, its my go-to lens on that occasions due to its size, weight and performance.
Eye-AF is also working properly and relatively accurately, still keep in mind that this is a wide angle lens so I suppose that it won't be used a lot for portraiture.
In terms of  manual focusing, Focus Peaking and MF Assist function are working properly thanks to the transmittance of data via the electronic contacts.
Please note that there is no AF/MF switch on the lens, but accurate focus adjustment can be executed manually at any time by turning the focus ring when focus is set to DMF (Direct Manual Focus) mode.

The minimum focusing distance is 28cm, and in general I didn't encounter any issues when focusing close to subject.
As for Nikon Z users, when used on the Nikon Z6 with the TZE-01 adapter, the autofocus speed is still fast and accurate. Eye-AF and Focus Peaking are also working properly.
Autofocus in Video
For videographers, Full Time Autofocus (AF-F) works also very good and reliably* even wide open at F2.
However, this is totally related to the contrast and distance difference between subject and background, so its not an issue that will be reproduced every time and for sure not something serious.
What I noticed at first and confused me, was when the lens was used with Continuous AF (AF-C), it constantly "hunted" for focus and wasn't locking on anything. When I changed to Single Auto-Focus (AF-S) the lens managed to lock every time the focus point I wanted with nearly 100% success.
*Important Note : Tokina made an official press release at June 19, 2018 informing FiRIN 20mm AF users that a firmware update has been released that solves this issue.

Please note that the copy of the lens that I currently use haven't been updated to the latest firmware which solves an issue with AF-C on Sony cameras, although I didn't encounter many "hunting" issues till today.
Optical Design

The lens features a complex optical design with 13 elements in 11 groups, including three (3) SD Low Dispersion Glass Element and two (2) Aspherical Elements, which allows optimal resolution with sharp edge to edge results and minimal chromatic aberrations.
The lens also features Tokina's exclusive Super Low Reflection Multi-Coating which provides excellent contrast across the frame, as also natural color rendering and water/oil/dust repellent abilities.
Lastly, the Diaphragm Blades are nine (9) and the angle of view is 92 degrees.
Technical Specifications
Mount Type: Sony E
Focal Length: 20mm
Compatible Format(s): FX, DX
Maximum Aperture: f/2
Minimum Aperture: f/22
Angle of View (FX-format): 92°
Elements: 13
Groups: 11
Diaphragm Blades: 9
SD (Low Dispersion) Glass Elements: 3
Aspherical Elements: 2
Filter Size: 62mm
Image Stabilization : N/A
Autofocus: Yes
Focus Mode: Autofocus with Manual Focus Override
Minimum Focus Distance: 0.28m
Length: 73mm
Diameter: 81mm
Weight (Approx.): 465 g
Hood: Round Bayonet type BH-623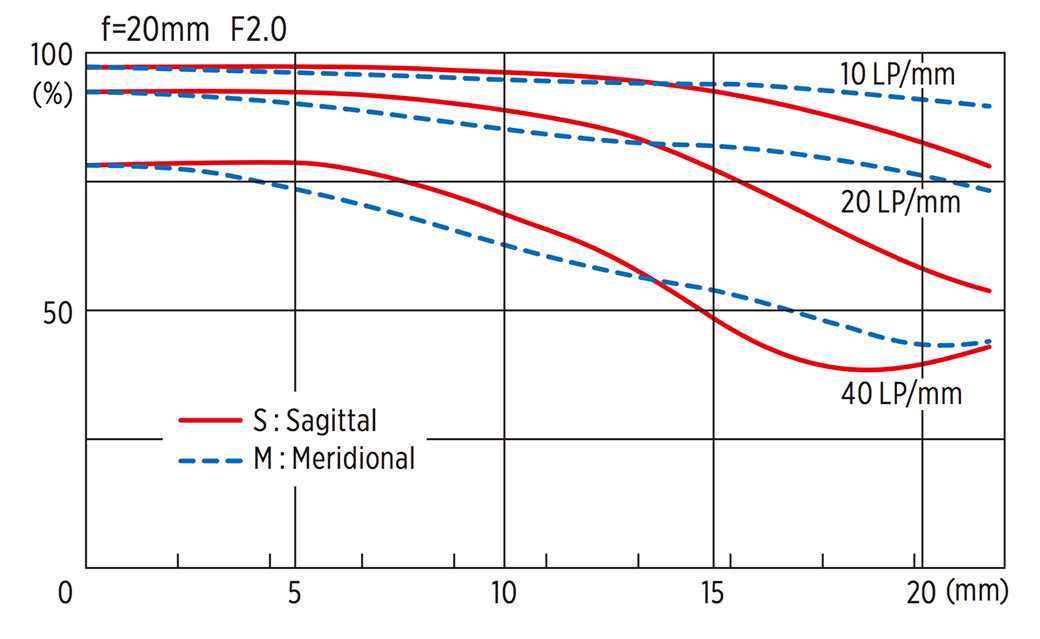 Sharpness Lab Test

The lens is very sharp wide open as it delivers near excellent results in the center at F/2 and very good sharpness levels at the edges.
From F/2.2 till F/4 the center sharpness remains almost excellent and the corners are becoming even sharper, scoring an overall excellent rating in edge to edge sharpness.
From F/4 till F/8 sharpness is in excellent levels in the whole frame, scoring a fantastic rating in overall sharpness across the frame.
From F/11 to F16 overall image sharpness is slightly reduced due to diffraction, with some slight loss in details, but totally usable results.
Focus Shift

Focus Shift is an optical problem that can result in blurry images and many focus errors when working with wide aperture lenses and usually the subjects are in close working distance.

Based on my tests with the Tokina FiRIN 20mm F2 AF, there is no visible shift when changing focus.
The target was a Spyder LensCal tool and it was placed at lens minimum focusing distance of 28cm.
Bokeh
The lens features a nine (9) blade aperture and along with the constant F2 aperture, it creates a very smooth, round and good looking bokeh.
You can create some very nice and creative results when you get very close to your subject (thanks also to the 28cm minimum focusing distance) and use a wide aperture.

Also, in terms of transition in out-of-focus areas, the blur is very smooth between the focused object/area and the background, creating beautiful results.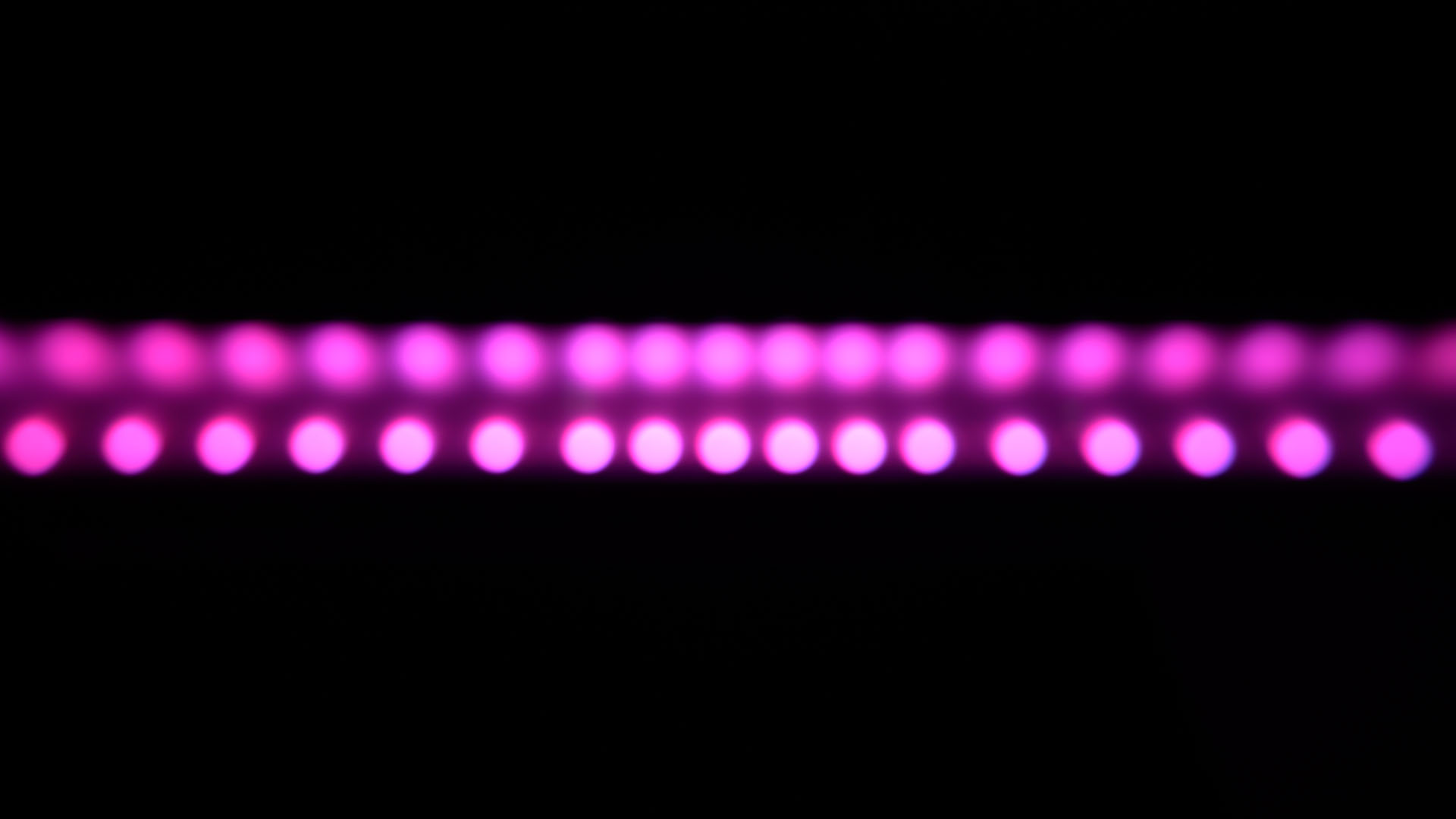 Chromatic Aberration
Chromatic aberrations, or fringing, are those green and purple color halos around areas of difficult (high) contrast transitions.
In the case of Tokina FiRIN 20mm F2 AF, Chromatic aberrations are controlled excellently thanks to lens optical design, as the lens is not showing any signs of chromatic aberration even wide open.
The test was performed in a controlled lighting scenario inside my studio.
The test subject was a Spyder LensCal tool and it was placed at lens minimum focusing distance of 28cm.
Flaring
Due to physics, there can be no lens which is absolutely flare free. Depending on light position, strength, as also other factors like camera angle, it can either be visible or not.
Thanks to Tokina's Exclusive Multi Coating technologies, any flaring issues are kept to a good level with the FiRIN 20mm F2 AF lens, especially when shooting against very bright sources of light and/or in angles.
In most scenarios with difficult and direct lighting, there are some small signs of green flaring in wide apertures, and slightly bigger as the aperture is closing.
However, in most occasions it is relatively easy to be removed or fixed in post processing.
Vignetting

There is a some amount of light fall-off towards the borders from F/2 to F2.8 which can be corrected on post.
Stopping down reduces the amount of vignetting, and from f/3.2 isn't visible.
Still for most subjects this is not an issue, however as already said, it can be fixed automatically in Adobe Camera Raw/Photoshop/Lightroom when the Lens Profile is selected.

Comatic Aberration (Coma)

Coma is an optical aberration that afflicts off-axis light and it is caused by the curvature of the principal planes of the optical system.
Coma becomes apparent when the light rays from the source enter the lens at an indirect angle causing the image to be off axis.
The result is a comatic spot in shape, having a bright central core with a triangular flare extending toward the optical axis of the lens.
In the case of Tokina FiRIN 20mm F2 AF lens, it can be seen in minor values near the edges of the frame when wide open from f/2 to f/2.5, and it renders invisible from f/2.8.
Distortion
According to my tests, there is a slight pincushion distortion, but nothing serious and in general it won't affect your images.
When the Lens Profile is selected in Adobe Camera Raw/Lightroom/Photoshop, the software automatically fixes any distortion issues.
Personal Thoughts
I have many times expressed my personal thoughts not as professional photographer, but as a photography passionate.
I always write this section of my reviews with that perspective, and not with the perspective of an ambassador or a professional reviewer.

Despite being a really great lens, with almost excellent performance, the lens was and still is underrated.
Tokina was always famous for its superb quality and optical performance of ultra-wide angle lens, and this one not only continues this tradition, but in reality it raises the quality bar in the highest levels. There are many reviews of this lens online, and almost all of them agree that the lens performance is simply amazing!
Actually, almost all of Tokina's lenses in the past three years (opera, FiRIN, atx-m, atx-i) are simply spectacular in terms of optical performance!
Ok, there are some issues with AF and flaring, but any lens on the market has its issues.
However, only a few lenses currently available on the market are so enjoyable when used, and even lesser that can produce so beautiful (if I may use the term "cinematic") results.
Even now, two full years of using it every day, I still enjoy it and its always my first pick in both photos and videos.
Conclusion
"My go-to lens for astrophotography, timelapse and travel, due to its bright constant f/2 aperture, great autofocus capabilities and most importantly, excellent optical performance and almost zero coma aberration, all that packed in a premium high quality lightweight body that fits perfectly Sony Alpha cameras."
Ratings
| | |
| --- | --- |
| Build Quality: | (8.8 / 10) |
| Handling: | (8.3 / 10) |
| Size and Weight: | (8.9 / 10) |
| Optical Performance: | (9.5 / 10) |
| Bokeh Quality: | (8.2 / 10) |
| Features: | (7.9 / 10) |
| Focus Speed and Accuracy: | (8.5 / 10) |
| Value for Money: | (9.5 / 10) |
| Personal X Factor: | (10.0 / 10) |
| Average: | (8.8 / 10) | Highly Recommended!
Want to get notified when a new review is published?
Consider subscribing to my Newsletter!