Tokina SZX 400mm F8 Reflex Lens Review
*Please note that at the time of writing this review,
there was no
available lens profile for Tokina SZX 400mm F8 Reflex lens released from Adobe*
***

Reading Time:

23

minutes

***
Intro
When I learned about the development of a new mirror lens from Tokina in 2020, I must say that I was a little skeptical at first thought.
However, after thinking about it more clearly, I realized that this could be a very smart move (especially for the high growing mirrorless market) considering all the features that most cameras provide in our days.
But before proceeding and analyzing further my thoughts, lets discuss about this forgotten type of lenses.
Total Views: 11,034
Daily Views: 1
Reflex Lens?
Reflex lenses, also known as Mirror or Catadioptric, were produced back in the glory days of analog photography and they were quite popular due to their affordable price and compact design.
But, despite their popularity, they were also accompanied with some issues, the most important ones were: A) the fixed small aperture (usually F5.6 or F8) which translated in difficulties in poor lighting conditions and a film of medium to high sensitivity, and B) the relatively soft produced image (more on that later).
After all their simple optical construction was based on the Schmidt–Cassegrain design, a 200 years old optical system that was primarily used for some of the very first telescopes of the 18th century.
How a Reflex/Mirror Lens Works
Incoming light is reflected by the main mirror, which is usually located at the back of the lens, towards a secondary smaller mirror at the front, which then reflects back the light towards the camera sensor via a correction optical element.
This simple optical design, along with the absence of glass elements provide the significant advantage of virtually no produced chromatic aberrations, low overall weight and size of the lens.

But simplicity unfortunately comes with a "price", the central area of the optical path must be blocked in order to accommodate the secondary mirror, which unfortunately produces a strange ring effect (a.k.a "doughnut") in the out of focus highlights.
Also, there is no mechanism for automatic focusing, and lastly but most importantly, the aperture is fixed, usually at F/8 which required from the photographer to compensate for the light loss with slower shutter speeds which by their turn required more stability (tripod) so the advantage of portability was indirectly lost.
Why I think it was a clever move?
A lot have changed since the analog era.
In our days technology has evolved a lot providing a lot of helpful features in almost all camera models, despite their manufacturer.
Even an entry level camera today can produce great results of high quality (compared to previous models 5 to 10 years ago), and for sure can perform very well even in high ISO settings, which will help the photographer compensating his exposure for the fixed F8 aperture.
But most importantly, almost all mirrorless cameras, both APS-C and FX models, have In(ternal) Body Image Stabilization (IBIS) which can help the photographer capture sharp images in case of slower shutter speeds or in higher focal lengths without shaking.
Also, the mirrorless form, with smaller and lighter cameras (& lenses), provides the ability to have multiple type of lenses on your camera bag without hurting your back.
From personal experience I can say that there were many times I wish I could have a big telephoto lens on my camera bag, both for my professional work or while traveling, without the extra weight (and size).
We are also globally living in the era of COVID19 pandemic so I suppose that many photographers will not have the same available amount of budget for their potential new gear, so a relatively cheap and affordable telephoto lens with good performance is always a welcome option.
This is where the new Tokina SZX 400m F8 Reflex lens is situated with its announcement and market release.
Lets take a closer look on this new lens.
Build Quality, Lens Handling & Design
The new Tokina SZX 400m F8 Reflexlens has the same modern and sleek design looks of all the latest Tokina lenses of the last three years.
Matte black body and white markings (not engraved) on the outer shell.
The lens has a small size (check comparison image with Tokina firin 20mm AF and Tokina atx-i 11-20mmF2.8 CF) and it fits nicely with the camera body.
Left: Tokina atx-i 11-20mm F2.8 CF | Middle: Tokina SZX 400mm F8 Reflex MF Lens |  Right: Tokina Firin 20mm F2 AF
Size Comparison
Left: Tokina SZX 400mm Lens Without Mount Adapter |  Right: Tokina SZX 400mm Lens With Sony E-Mount Adapter
The lens is made with high quality plastic materials and its being constructed in Japan.
The lack of many glass elements along with the plastic construction doesn't make it feel front-heavy in the camera body, despite if it is an APS-C or FX one.
With a weight of 355gr and a size of 74x77mm, you can have it always on your camera bag without even noticing it.
Mount
The T-Mount, as also the Adapter Mount are made of metal in Japan.
Unfortunately they don't have any protective rubber ring to prevent dust penetration, a very common problem to all mirrorless cameras, but the good thing here is that due to catadioptric construction, its not so easy to get dust inside the lens.
But keep in mind that any dust that sits into the front or rear elements, will be captured as a doughnut/ring-like dot on the photos (check image below).
Keeping the lens front and rear parts clean is advised.
There are no electronic contacts on the mount or on the adapter so no EXIF information can be passed to the camera.
However most cameras offer the ability to set some information for the Non-CPU lens which is currently used thus having aperture and focal length information when editing your photos on Lightroom.
This information is also being used from the camera to determine the best possible IBIS setting.
From my tests, Image Stabilization is working perfectly with this lens despite the long focal length.
I managed to make handheld shots of shutter speed low as 1/30 with nice sharp results.
ISO3200, 1/30s, Handheld (with IBIS) – Nikon Z6
Lens Hood
The included BH-673 lens hood is made of metal and it has a black matte finish and its size is rather big compared to the lens overall size.
Personally I didn't use it very often, mostly because it's almost doubling the size of the lens.
However, it can prevent unwanted artifacts from incoming light, mostly flaring issues (check Flaring Test), and also it can protect the front of the lens from unwanted hits or scratches.
Filter Thread
The filter thread in the front takes regular screw-on filters of 67mm size.
A Circular Polarizer filter is possibly a must-have-and-use filter in order to increase overall image contrast (in general the catadioptric design produces low image contrast) and colors.
In some of my tests, I used the HOYA Fusion Antistatic CIR PL and the overall contrast was greatly improved.
However, when I rotated the filter to have the best filter effect, the smooth focusing ring had also moved slightly which meant that I had to refocus.
Something that made the overall situation a little confusing in the beginning but got used to it.
The proper workflow in this case should be to first adjust/rotate the filter and then focus accurately.
*Testing Notes*

I'm currently away from my studio, as I'm in the filming stage of my new project, this is the 1st lens review that I'm finishing completely outdoors.
The following cameras were used for the tests of this review: I) Nikon Z6 and II) Sony A7 mkII, with adapters for each mount.
*UPDATE 27.08.2020*

The reason for this small data update is that some readers asked me how I attached the Tokina SZX 400mm F8 Reflex MF Lens on the Nikon Z6 camera.
I feel that I have should included this information from the beginning so please forgive me for not writing it from the start.
The Tokina SZX 400mm F8 Reflex MF Lens comes originally with a T-Mount (42mm).
Tokina offers this lens either with or without the extra (but necessary) mount adapter that is available for the following mounts: F, EF, E, X, M4/3.
There are currently no available Nikon Z or Canon RF adapters.
I personally own the Techart TZE-01 adapter that provides full electronic compatibility between an E-mount lens (i.e. Tokina firin 20mm F2 AF) and a Nikon Z camera.
The lens that I received came with an E-Mount adapter and my first option was to check if its working through the Techart TZE-01 adapter.
In this case all the helpful features like Focus Peaking and IBIS are working perfectly, but unfortunately the camera is not releasing the camera.
My 2nd option was to use an old Soligor T-Mount adapter for F-mount (T to F) and use this rather small adapter ring along with the Nikon FTZ adapter.
And in this way, the camera and lens combo are working perfectly. All features like IBIS and Focus Peaking are working perfectly and the camera is releasing properly the shutter.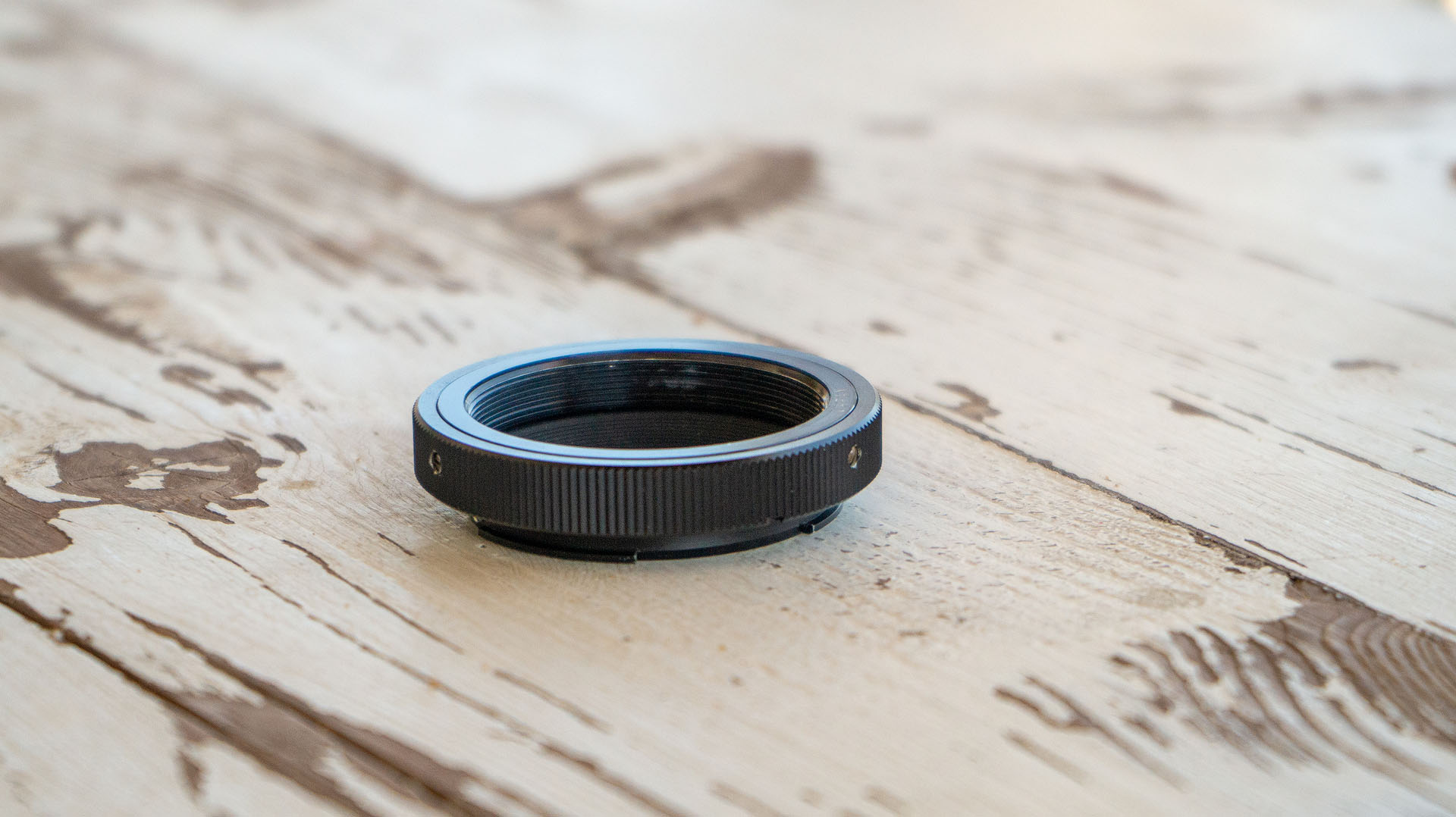 Manual Focusing
The focus ring has a large size with a good solid grip, and it has a very smooth feeling in its operation when focusing.

In terms of focusing, Focus Peaking is a must-use feature with this lens as it will make easier to distinct the areas that are focused.
In both the two (2) cameras that I used for this test, Focus Peaking worked excellent, providing clear marks of the focused area.
My focus peaking settings were: Peaking Level 1 (low sensitivity) and Peaking Highlight Color: Red.
Despite having a relatively big rotation (almost one full turn) with macro ratio marks and distance information scale from 3 metes to infinity, due to the high focal length, small micro-movements of the focusing ring are needed to achieve proper/sharp focusing, especially in faraway targets that are close to infinity.
In both my Nikon Z6 and Sony A7mkii, the actual infinity was set in the middle of the "m" mark on the lens, like shown on the image below.
The lens when focused close to the minimum focusing distance is extracted by almost 2cm, and also rotates slightly, so in case you use a rotating type filter (Grad ND, Circular Polarizer) you have to reposition it.
Optical Design
The lens features an optical design with 6 elements in 5 groups with multi-layer anti-reflection coatings and as mentioned before, due to the catadioptric optical design, chromatic aberrations are absent.
Technical Specifications:
Mount Type: T-Mount (42mm)
Available Mount Adapters: Sony E, Nikon F, Canon EF, Fuji X, Micro 4/3
Focal Length: 400mm
Compatible Format(s): FX, APS-C, Micro 4/3
Maximum Aperture: f/8
Minimum Aperture: f/8
Angle of View (FX-format): 6°8'
Elements: 6
Groups: 5
Multi-Coating: Yes
SD (Low Dispersion) Glass Elements: 1
Filter Size: 67mm
Image Stabilization : N/A – In Camera Body Only
Focus Mode: Manual Focusing Only
Minimum Focus Distance: 1.15m
Length: 74mm
Diameter: 77mm
Weight (Approx.): 355 g
Hood: Round Bayonet type BH-673
Sharpness
Sharpness

In general, the catadioptric optical design produces medium overall contrast and relatively lower image sharpness compared to a normal optical design lens.
In the case of Tokin SZX400mm F8 Reflex lens, from my tests I can say that image sharpness is indeed a little lower from today's standard, but for sure way better than previous generation lenses and of course 100% usable.
Actually, if the lighting conditions are optimal, the results will amaze you on some occasions.
For the best possible results, a sturdy tripod is necessary along with the Self Timer option of the camera, in order to minimize the chances of camera shake. In case of DSLR users, the Mirror-Up option is also advised.
Of course, this doesn't mean that you cannot take some nice photos while shooting handheld. As mentioned before, with the help of IBIS, you can take some nice shots even handheld.
Flaring
From my tests, there weren't any visible flaring issues when the lens hood was attached.
However on some occasions, and depending the incoming light angle (without the lens hood attached), some serious ghosting issues might occur.
But, as I already mentioned, it can be prevented by using the included lens hood.
Vignetting

On the other hand, vignetting is an issue that the photographer should definitely have in mind while shooting.
In almost all the tests I made, I found that if the light conditions are not optimal, a strong vignetting is visible in the middle of the frame.
So the photographer must definitely compensate and provide more light in his exposure settings in order to overcome this issue.
As the lens is very new, there is no available Profile for this lens that will fix this issue in Adobe Camera Raw/Photoshop/Lightroom.
ISO100, 1/200s, Handheld (No IBIS) – Nikon Z6
Color Rendering

Color rendering is bound to Contrast and the lens contrast levels are at best close to medium, so it will require a little contrast and vibrance boost in post processing in order to get the proper colors.
Again as mentioned before, during daylight, a circular polarizer filter will increase both contrast and colors in produced image.
Personal Thoughts
It is very exciting to see Tokina SZX Series name coming back to market (after the portable SZX lenses of 80s-90s) in the form of an upgraded-with-today's-technologies retro optical design in a compact telephoto lens.
I'm also very excited and eager to see the next lens of this line, which hopefully will be also small and portable. In the days of relatively small (mirrorless) cameras, capable but portable (pancake, small form) lenses are not only welcome by photographers, but a necessity for them.
Conclusion
A very affordable option in the long telephoto range, a super small prime lens to have always on your camera bag while traveling or working, for landscape, nature, bird and sports shots, or even macro shots and moon photography.
Despite its optical design known weaknesses, if lighting conditions are good and with the help of camera features like IBIS and Focus Peaking, it can produce great results that will for sure amaze you.
Ratings
| | |
| --- | --- |
| Build Quality: | (7.0 / 10) |
| Handling: | (8.0 / 10) |
| Size and Weight: | (9.5 / 10) |
| Optical Performance: | (7.0 / 10) |
| Artistic Bokeh: | (8.5 / 10) |
| General Bokeh: | (5.5 / 10) |
| Features: | (6.0 / 10) |
| Manual Focus Accuracy: | (8.5 / 10) |
| Price: | (9.5 / 10) |
| Average: | (7.7 / 10) | Recommended!
Want to get notified when a new review is published?
Consider subscribing to my Newsletter!