Hasselblad X1DII 50c Review
Some images in this review were taken from the official Hasselblad website (www.hasselblad.com).
All other photos of this review were captured by Christophe Anagnostopoulos with a Hasselblad X1DII 50c camera and an XCD 65mm F2.8 lens.
Intro
As I was beginning to write this review, I honestly didn't know how to start.
You see Hasselblad is a name so tied to photography itself, that little can be said.
Some of the most famous photographs of human history have been taken with a Hasselblad, including those from the Moon.
Still, I will try to be very honest and objective in this review from the proffesional photographer side.

The new X1DII is one of the most affordable digital Medium Format cameras currently available on the market and is aimed mostly on studio, fashion, portrait, product and landscape photographers who want the best possible image quality for their work.
Image Samples with Hasselblad X1DII 50c & XCD 65mm F2.8 Lens

Unfortunately, time didn't allow for proper portrait shooting, but here are some indoor candids of my nephews.
Medium Format Image Crop



I suppose that nowadays most photographers are familiar with FX, APS-C (DX) crops and equivalents, but in case you are not familiar with Medium Format photography, please note that due to 0.79x crop of the sensor, the lens I used for this test, the XCD 65mm F2.8, is a 50mm equivalent in Full Frame (35mm).
To be more exact the focal length is equivalent to 51.35mm and the depth of field is equivalent of F2.21.
However, the light transmission does not change, so in terms of incoming amounts of light, it still is an F2.8 aperture lens.
There are some free online tools available to find out the exact equivalent information for every sensor type and lens focal length/aperture, in example the following : https://mmcalc.com
The sensor itself is 43.8 x 32.9mm with a resolution of 8272 x 6000 pixels (5.3 x 5.3μm) or 50 megapixels (49.632.000).
Some might think that FX cameras like the Nikon D850 or the Sony A7RIV have nearly the same or even more resolution, but the thing is that due to the physical dimensions of the sensor, the produced image is totally different in every aspect.
Image from Hasselblad.com
Disclaimer

A production retail copy Hasselblad X1DII 50c along with XCD 65mm F2.8 lens were provided to me by Greek Hasselblad Distributor company, Photometron SA, for review and testing purposes.
Unfortunately, the given time-frame was very short and I didn't had the chance to finish all tests and shooting scenarios (studio portraits, etc) that I have prepared for, still I believe that the most common aspects were tested and I can provide some info that might be helpful.
Build Quality, Handling & Design



The new Hasselblad X1DII 50c has a very modern, stylish and minimalistic design, and compared to the previous X1D model, little have changed with the biggest difference being the bigger touchscreen on the back.
There are some clever and beautiful design touches that I find very interesting, like the pop-up mode dial on the right, or the metallic orange color of the shutter button that makes a strong contrast with the new industrial titanium matte gray color of the body.
I would love to see this pop-up dial on other mirrorless cameras as well!
Hasselblad always had a superb reputation for its superb build and premium quality and the X1DII is continuing this tradition.
As written in the upper plate, the camera is "Handmade in Sweden" (while the lens is made in Japan), and it is high-end premium by all means, crafted with high quality materials and feeling solid and luxurious.
The soft edges of the body, the crafted buttons and the overall style makes the camera look like a piece of art and for sure it will attract a lot of positive reactions for being different from any other camera currently available on the market.
The camera is relatively big for a mirrorless one, but its still smaller than a DSLR.
Its dimensions are 148 x 97 x 70mm and its weight is close to 770gr, including battery and SD cards.
With the XCD 65mm F2.8 lens attached, the overall weight is close to 1.5 kg, which is rather heavy.
In comparison, my current setup of Nikon D850 and Tokina Opera 50mm lens, which performance is trully excellent, together have a combined weight of 1.95 kg.
But, while the camera is heavy, it is also perfectly balanced and along with the excellent hand grip, it is a joy to have it in hands as it doesn't feel front-heavy, at least with this specific lens.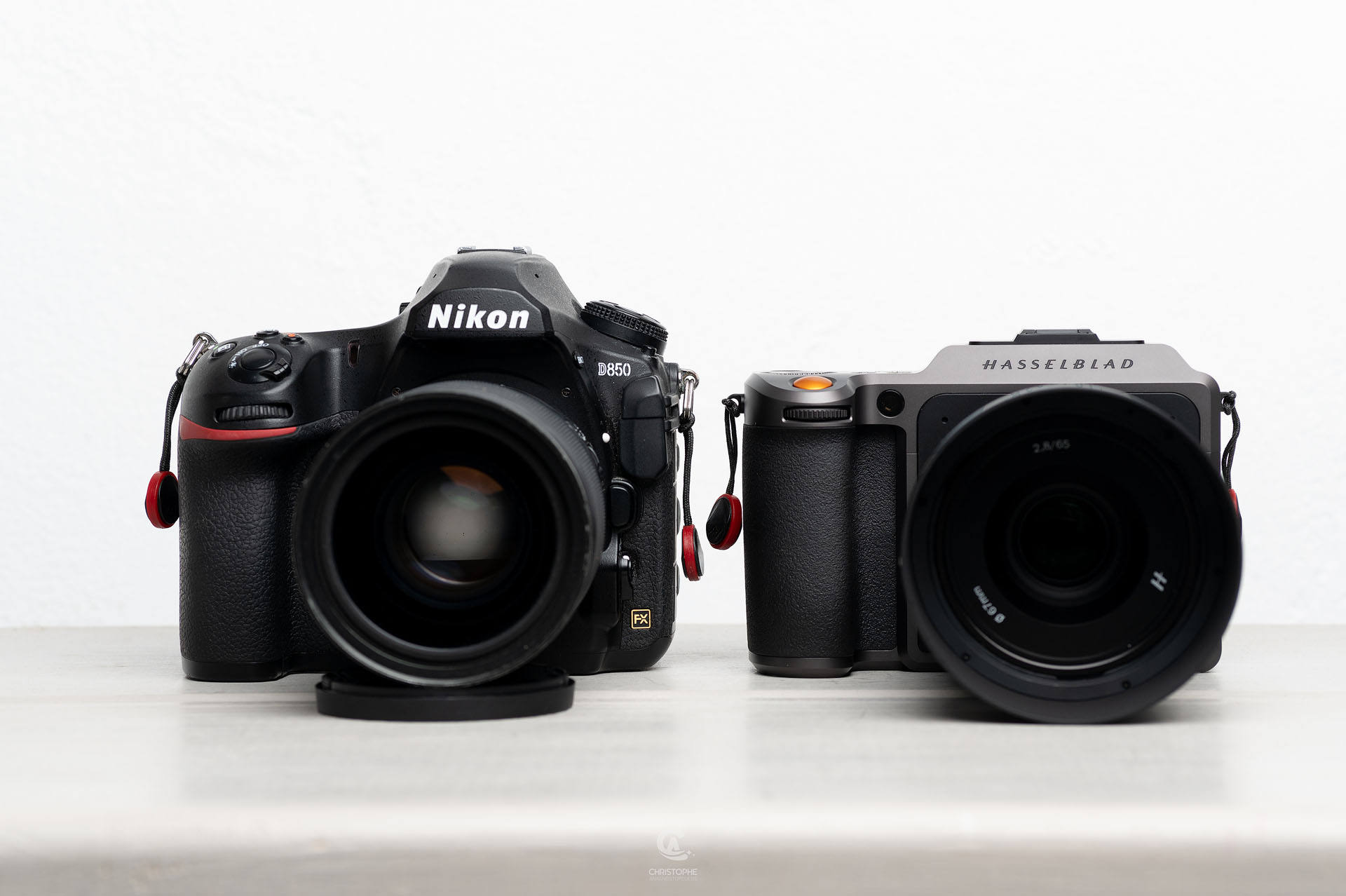 Ergonomics & Usage



As mentioned before, although the design is very beautiful, it is also very minimal so there aren't a lot of buttons in the camera body, and most settings can change only through the new 3.6 inch touch screen and its five (5) side buttons that are working in conjunction with the touch menu options.

So in terms of ergonomics, and especially if you were using another system before, for sure the learning curve will be relatively big as the user must get used to navigate through the camera options.
There is no joystick or directional buttons, so if you want to change the focus point, you will either have to take the camera of your eye and select the focus point from the touch screen (touch focus is not available though), or press the AF/MF button and then use the front and rear dials.
Front is for horizontal movement while the back dial is for vertical.
To be honest with you, I had to search into the online manual to find this information.
In real world situations, you must forget quick selection of the focus point.
Lastly, on the bottom of the camera, there is a normal tripod thread and a small black lever that when pushed, it ejects the relatively big battery from its chamber.

The hand grip is possibly one of the best I have seen in mirrorless cameras design, providing a very strong and deep grip even if your hands are big.
EVF & LCD



The OLED electronic viewfinder (EVF) has a 100% coverage of the frame with 0.87x magnification, high refresh rate and a resolution of 3.69 million dots so everything are showing in the best possible detail.
The LCD touch screen has a size of 3.6 inches with resolution of 2.36 million dots (1024×768) and a 24-bit color palette.
I liked the colors (which are slightly more vivid compared to my Nikon at least) and the contrast levels are good.
The luminance of the screen is very good, so it is possible to review the image on screen even under sunlight.
The touch response in overall is very good and the live view feed refresh rate is of 60fps.

However, the screen is fixed and not articulated which means that is not helpful if you are working in low or high angles, and especially from the point that most settings are changed through screen.
A very small OLED screen on top just to show exposure settings would be a positive addition without changing the overall design too much in my opinion.
So, if in example you are a landscape photographer and you are working with low angles with camera on tripod, it would be rather impossible to check not only your framing or focus point, but even your exposure settings.

One other thing to consider, especially if you are a landscape photographer, is that although camera is weather sealed (not 100% though), most camera settings can be changed only through the touch screen, so in case you are outdoors, you have to consider that it would be difficult to change them on some occasions, in example if you wear gloves to protect your hands from cold, or if there is humidity in the atmosphere, light rain, etc.
In these cases, dedicated settings buttons are very helpful.
Memory Cards & Connectivity
On the left side of the camera, under the Hasselblad logo, there is a small cover door that provide access to the two (2) UHS-II SD memory card slots.
Due to the enormous file size (Raw file is around 103mb, jpeg at 20mb – no compressed/uncompressed raw file option) the camera requires high performance SD cards with Write speeds of 270mb/s at minimum.
In case a slower SD card is used, a warning message pops up in the screen informing the user for low speed performance.
I used a Sony G SDXC-II U3 64gb (299mb/s write speed) as the main (1st) card without issues in performance.
I also used as secondary cards a Sandisk SDXC-I V30 U3 64gb (95mb/s) and a Lexar SDXC-I 64gb (95mb/s) and the pop-up message was visible at times about the low speed performance of the card and the response was indeed slower.

An XQD or CFExpress slot would be a better choice in terms of performance, at least for the main card, but I suppose that the camera was designed with Tethering Shooting Photographers in mind (studio, fashion, portraits, etc).
Unfortunately the camera does not have an option setting to write the Raw files on the 1st card and the jpeg files on the 2nd (if you are using a Raw+Jpeg capture style), something that can be found on the majority of today's cameras. The only available options are Overflow and Backup.
Image from Hasselblad.com
Based on my tests, a 64gb card can hold around 580-600 Raw and Jpeg images and the Buffer capacity fills after 6 Raw+Jpeg exposures, requiring at least 7 seconds to clear and continue shooting.
The continuous capture is of 2.7fps, and in general, the processing after taking the image is very slow (the image will be shown for reviewing in the screen after 1-2 seconds) so the camera is for sure not aimed towards fast action or sports.
The second port cover of the left side provide access to a USB type C port for connectivity and charging, and lastly two ports for microphone and headphones.
I suppose that the manufacturer has a weird sense of humor as the last two ports cannot be used (at the moment?) as the video capabilities of the camera are not yet enabled!
I might be mistaken but there is no information or a scheduled release date for a firmware update that will enable video, at least at the moment.
Obviously, the camera is not and probably never will be aimed towards video capturing (and I strongly agree with that), but then again why having the video mode in the dial as an option, and add two dedicated Audio In/Out ports if you cannot record video? That is rather confusing for a user.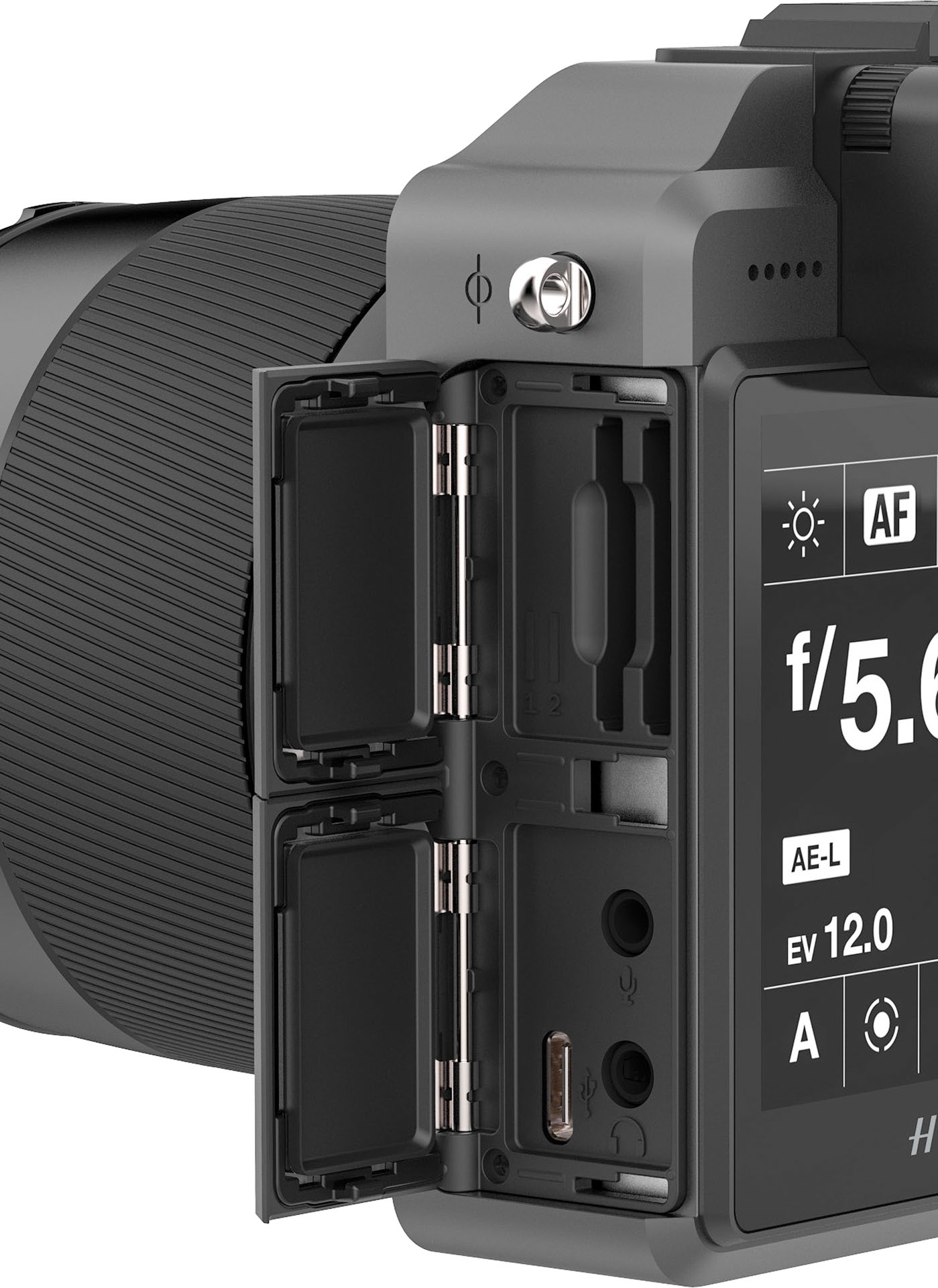 Image from Hasselblad.com
Battery & Features
I couldn't find any official data from the manufacturer about battery life, but from my tests the battery has a life of 240-270 shots. Of course it depends on the type and needs of shooting.
The battery can be fully charged in-camera via the included USB-C cable and wall power adapter in 2 hours but cannot be charged while the camera is in use.
The camera has built-in WiFi and GPS capabilities in case you need them, but keep in mind that these features require power, so max battery life will be even lower in this case.
I personally don't use these features even on my cameras, still these features are a welcome addition and many people are already using them in their workflow.
In my tests both GPS and WiFi were not activated. I mostly used the EVF for framing, and LCD for image reviewing.
The camera has also a power save feature, that by default will put the camera on standby after 10 seconds (can be changed in the menu), in order to save even more battery.
In order to power up the camera, the power button must be pressed for a second and the start-up time is close to 3 seconds. If the camera is "waked" after standby, the wake-up time is close to 2 seconds, so keep it in mind.
The user interface is good, reminding a smartphone menu, but the lack of some basic features and the missing directional buttons makes the experience not so pleasant in the long run. After all, its a high-end camera for professionals, and not a gadget. However, I must state that this is totally subjective and a personal preference so someone else might find the interface more useful than others.
Image from Hasselblad.com
Long Exposures, Timelapse & Astrophotography
I make a specific reference for these types of photography because there are very popular genres and due to the high image resolution, the camera can be used to create high quality fine-art long exposure prints.
There is a basic self-timer setting and can be accessed by the Drive Menu. There is also a very useful feature when shooting long exposures that shows the remaining time of the exposure on the LCD screen, providing the ability to stop the exposure at any time.
What I also found very useful, and would love to see it implemented by other manufacturers as well, was the long shutter speeds (after 30seconds) that will give the ability to the photographer to capture long exposures without the need of an external timer/remote control.
To be honest, I find this ability very interesting and I would love to see other manufacturers integrate this feature on their cameras, for the predefined shutter speeds above 30 seconds.
After all, it is a very simple feature for the manufacturer to include in camera settings with a simple firmware update.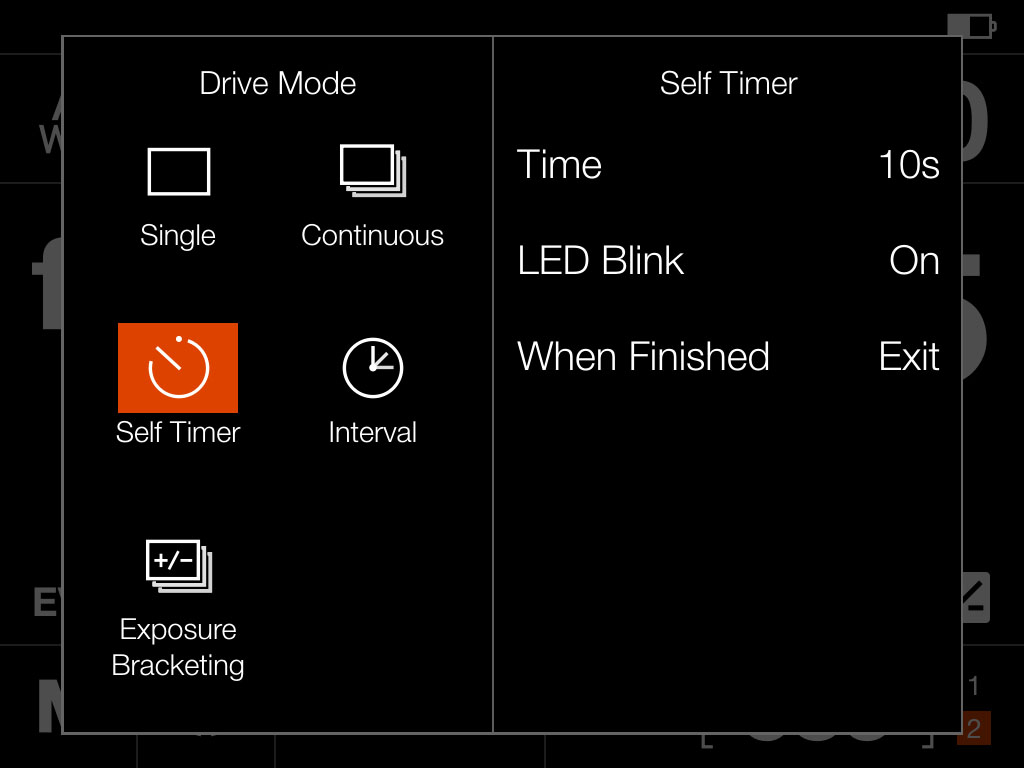 Image from Hasselblad.com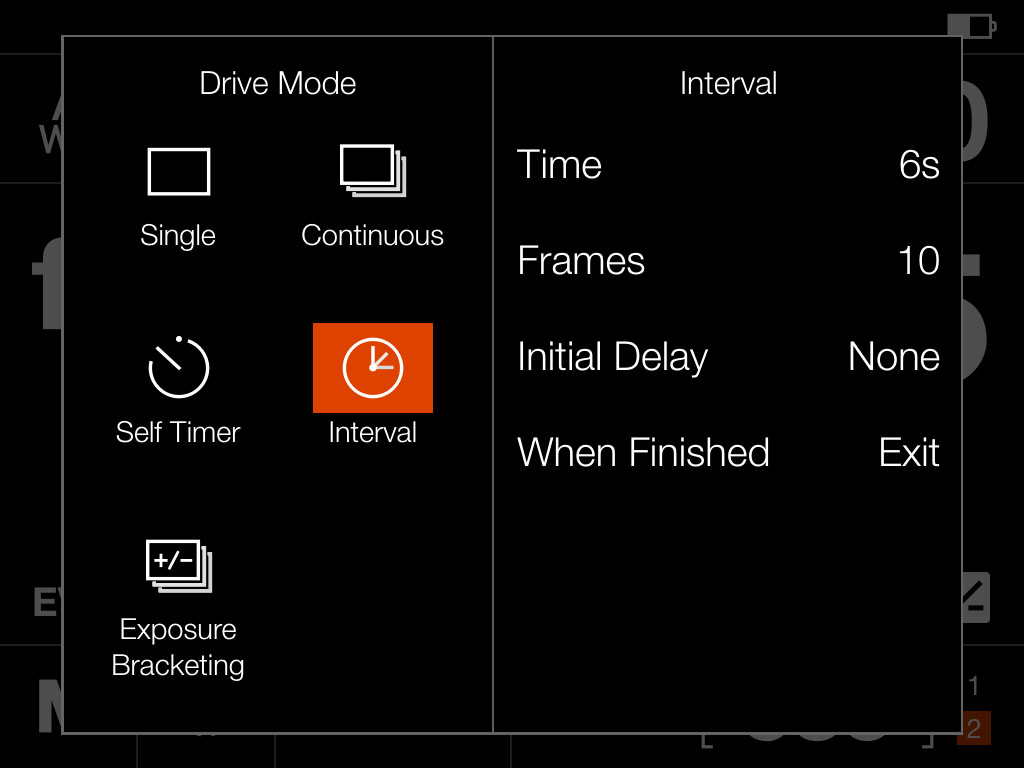 Image from Hasselblad.com
Timelapse

Unfortunately the camera is not recognised from Timelapse+ View Advanced Intervalometer, and because the built-in interval setting menu is very basic for proper timelapse shooting, I couldn't test the camera either in exposure ramping or simple timelapse shooting.
So, I'm still very curious on how the sensor would perform on a ramping exposure timelapse sequence. If in the future have the opportunity to test it, I will update this information.
Astrophotography
On the other hand, I managed to test the camera a little in astrophotography, this time using the built-in interval shooting option despite being very simple without many options.
The camera was attached on a Slik ECH-630 Star Tracker which was seated in a Slik Pro-CF 733 Carbon tripod, and the target object was the Orion Nebula (M42).
A HOYA Starscape light pollution filter was attached to the lens to eliminate any possible light pollution as I was shooting from my backyard.
The exposure settings were: F3.2, 51sec, ISO3200 and unfortunately I managed to make only fourteen (14) images due to weather conditions.
There is a strong magenta fringing that is not so easy to remove completely, and also the camera sensor seems to not have the necessary "power" to pull and retain data from shadows and highlights compared to FX cameras.
The noise pattern is also pretty strong so if you decide to use the camera for this type of shooting, I strongly suggest to use a stacking post processing workflow.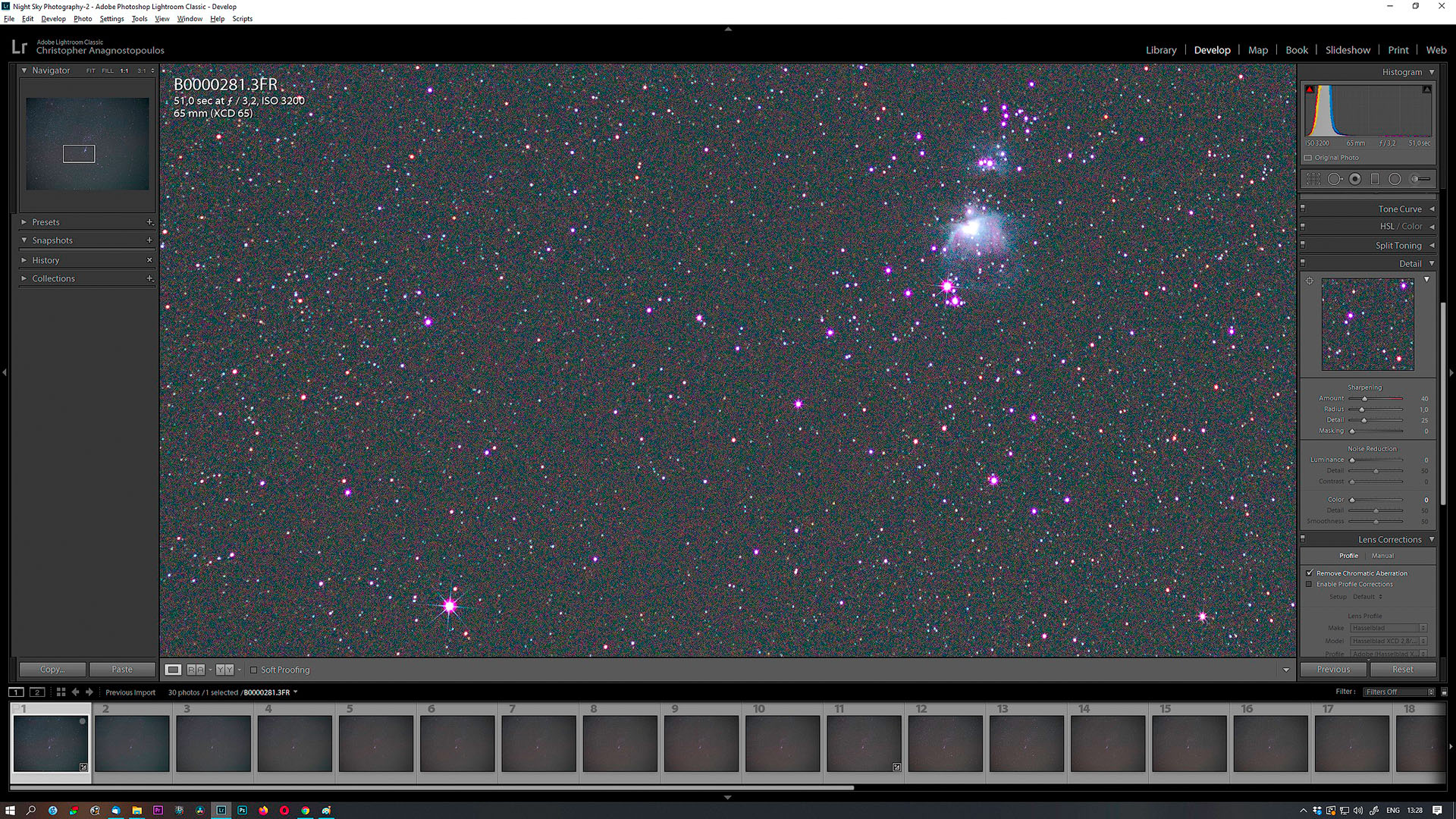 The lack of fast bright lenses, along with the visible noise pattern from the previous simple test, are pointing to the fact that this system is not the best option for astrophotography, however in order to avoid any possible misunderstandings, I cannot yet make a conclusion if the camera is performing good or not for this type of photography.
Hopefully in the near future I will have the chance to make some additional tests, including wide angle nightscapes with Milky Way galaxy core, and further update this section of the review.
Note: The DNG files of this test can be found on the following Google Drive LINK, feel free to download them.
(Leaf) Shutter
The shutter is on-the-lens (Leaf Shutter), something that makes possible that flash can be used at all shutter speeds (mechanical shutter).
However I found a small lag in shutter response close to ½ of a second, something to keep in mind.
There is also an optional electronic shutter, and is nice that can be programmed to be enabled via the front function button close to the lens mount.
The electronic shutter can reach shutter speeds of 1/10000s, while the mechanical shutter speeds have a range of 1/2000s to 68 minutes (!) which is very nice feature for those who are working with long shutter speeds.
When selecting shutter speeds, keep in mind that there is no internal stabilazation (IBIS) in the camera, so if you are shooting handheld, every micro-movement will be visible.
Lastly, I couldn't find any information about shutter life, but I believe it will be a pro-grade one with a minimum life of 150-200k.
Effective resolution: 50MP
Sensor Type: CMOS, 8272 x 6000 pixels
Sensor size: 43.8 x 32.9mm
File format: 3FR (raw), Full size Jpeg
LCD: 3.6inch touchscreen
Viewfinder: 2.36MP TFT, 24-bit color, 2.36 million dots
Shutter: 60min-1/2000sec (mechanical) [1/10000s electronic]
Autofocus: 35-point contrast-detect
ISO range: 100, 200, 400, 800, 1600, 3200, 6400, 12800, 25,600
Shooting speed: 2.7fps
Exposure metering: Spot, centre, centre spot
Dynamic range: 14 stops
Video: "Not implemented yet"
Audio port: Audio In and Out
Pop-up flash: No
Other features: Self-timer, Wi-Fi, GPS, USB 3.0
Card type: Dual UHS-II SDXC slots
Size (WxHxD): 148 x 97 x 70mm
Camera Weight: 650g
Combined weight (with 65mm lens): 1.5kg
Download Official Brochure
Find out more on the Hasselblad website
Autofocus
According to camera specs and announcement, the new X1DII is very much improved in terms of autofocus performance and capabilities from its predecessor, so I was eager to test this.
In reality, the 35-point contrast based autofocus system is very slow and noisy by today's standards, reminding me of older times and cameras, but at least is accurate when focusing is (finally) achieved.
There will be some focus hunting even in ideal lighting conditions, and honestly it is something that you don't expect from a camera of this magnitude.
In terms of AF features, there are no Eye-AF or face detect options, as also there is no Continuous AF option.
If you have achieved focus and the camera enters Power Save mode (by default after 10 seconds, but can be changed), when the camera wakes-up again, you have to focus from the beginning.
There is no AF-On button on the camera body (obviously), as there is also no way to program another button for this use.
It would be nice if a future update includes this option, as many photographers, especially lanscape or long exposure photographers are preferring to not have the focus enable on the shutter button.
In low light conditions, forget that the camera has autofocus, even there is a rather strong illumination lamp in the front (not so usable for close portraits, it will temporarily blind your model) and use directly manual focus with the nice focus peaking color options (I preferred the Cyan option).
Image from Hasselblad.com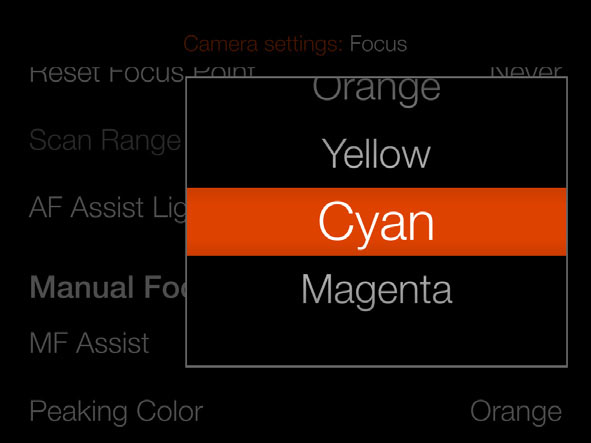 Image from Hasselblad.com
Manual focus on the other side is way is implemented properly, and as already mentioned, the focus peaking color palette is very helpful.
Also very helpful is the big screen so you can see clearly the focused zone on your frame.
Again, I strongly believe that the camera was designed mainly for slow and directed shooting scenarios or action inside a studio, but we are in the 2k20's and at least an on par with today's standards performance should be provided.
Image quality & Exposure
And at last, this is the place where X1DII really shines as its true power shows up.
The image quality of the Hasselblad X1DII camera is simply outstanding. Outstanding!

In Greek language we often use a specific word to describe how the camera renders the image, but I couldn't find the exact word translated in English so I will try to put it like this: The image rendering is breathtaking, giving "life" to a 2 dimensional image.
Simple as that. It is amazing.

I believe that on some occasions the produced images are way more things than simply sharpness and resolution. So, I honestly don't know what are the best words to choose how to describe the difference between Hasselblad photos and photos taken with any other camera.
Of course, this is only my approach, and I'm sure most people would be interested in these aspects so let's find out the results of the tests. 
Color Rendering

The Hasselblad Natural Color Solution technology provide possibly the best 100% lifelike colors I have ever seen from a camera, totally natural and realistic, without over-saturation or casts. Skin tones are natural, and landscape shots will look very realistic even in jpeg without post processing.
Sharpness
The captured details are amazing, and due to the high resolution from the enormous sensor, everything will be crisp and visible even if you pixel peep at 100% or more.
With this amount of resolution and high details, there is a lot of cropping potential with the benefit of multiple possible images from one single photo, without significant loss of overall details.
Sharpness levels in Raw are excellent but not too edgy, something that is very pleasing for portrait shooting.
Jpeg sharpness levels are simply good and unfortunately there is no way to change the jpeg picture parameters.
Being more specific about sharpness, below you can find my lab sharpness tests, but honestly I don't think that they matter so much.
The camera (and lens) are performing excellent in real life conditions so these lab tests are only for reference.
Sharpness Lab Tests
Dynamic Range
In terms of Dynamic Range (according to my tests, I measured 14 stops of DR) the camera is able to recover highlight details as also pull out shadow details on most occasions.

However, when a high ISO setting is used (>1600), Dynamic Range drops significantly while also there is a visible slight magenta cast at the edges of the frame especially when you try to pull some details from the shadows.
This reminds me some older Sony sensors that were not so useful for low light photography due to this magenta cast and low overall performance in Dynamic Range.
Metering
The light meter is in general very accurate, although on some occasions, mostly on landscape scenes with big portion of the sky in the frame, it overexposed by 0.1-0.3 stops.
However, when a Graduated ND filter was used (I used a HOYA GradND10 filter), it metered correctly without over or underexposing so that's great news for landscape photographers.
White Balance
The white balance is possibly the most accurate I have ever seen in a camera, even when set to Auto.
I have used many other cameras from different manufacturers, and so far no other camera from my experience was performing so great in white balance measurement.
I don't remember even changing it once for all these days I was using the X1DII.
Image from Hasselblad.com
Noise
In terms of noise, the camera is performing very good till ISO 1600, but after that, noise is visible although relatively pleasant and not so distracting.
Images in real life conditions are usable until ISO 6400, although you have to slightly overexpose providing more light and "hide" the noise pattern.
If pushed for shadow details, noise will be even more visible, as also there will be a slight magenta cast on the edges of the frame after ISO 1600.
I would suggest to expose for the highlights and if possible to overexpose a little in order to get the best possible noise pattern.

This is a camera that is meant to be used with flashes and off camera lights, and not a camera for low light performance, so always keep this in mind.
Still, the camera is performing relatively good on most occasions with usable images even on 6400.
Vignetting
There is a moderate amount of light fall-off on F2.8, that is visible nearly in the whole frame, but if you enable the lens profile on Adobe Camera Raw/Lightroom/Photoshop, it gets away aytomatically so I wouldn't be so worried about this.
F2.8, 1/100, ISO 1600, Handheld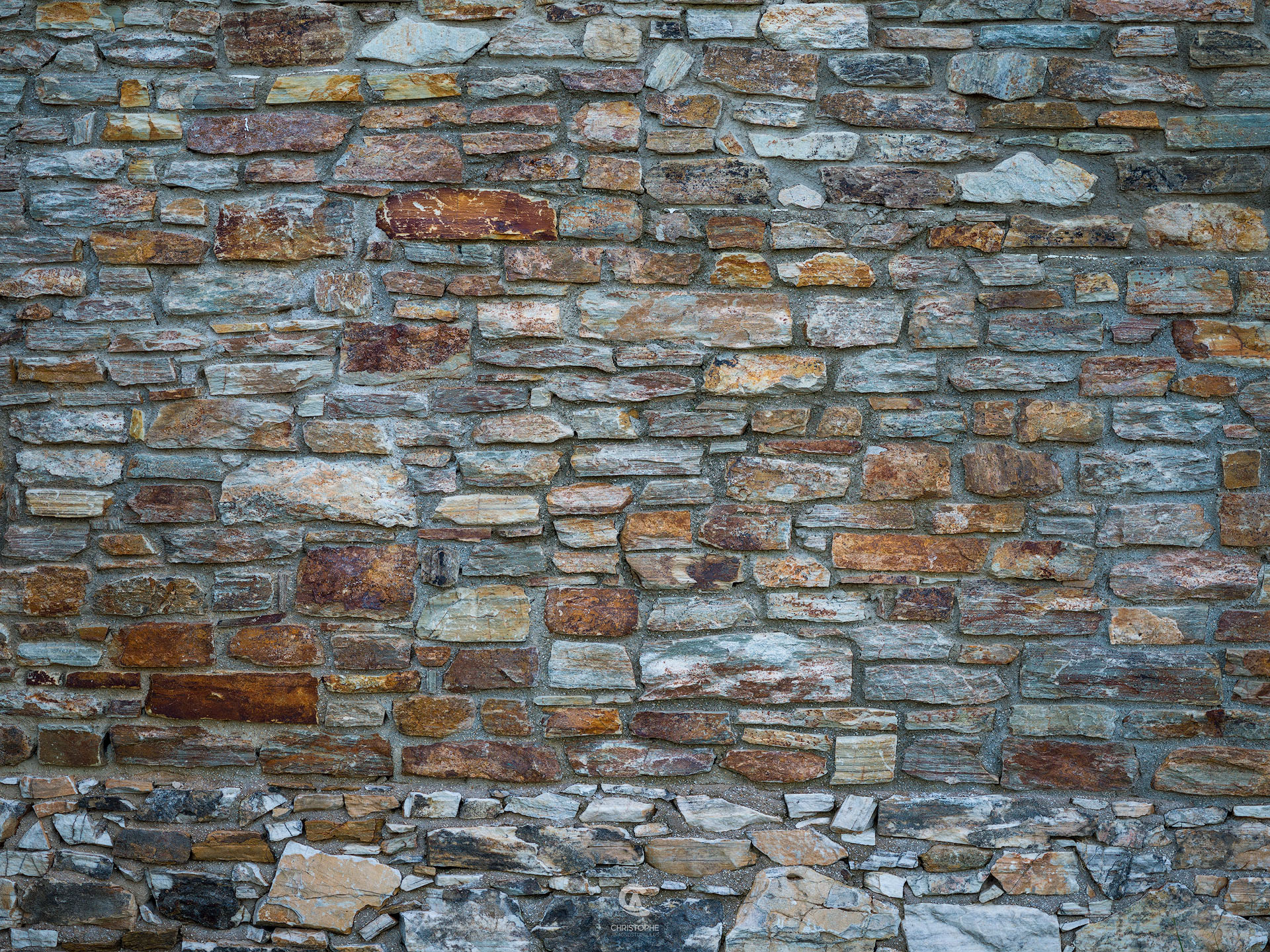 F2.8, 1/160, ISO 100, Handheld
Personal Thoughts
Before concluding with pros, cons and ratings, I want to speak as a passionate photographer and not as a professional.
There are times when a device might not be performing very good (compared to other options), but it feels like it has a "soul" inside, and without knowing why, you still like it or want it despite its "faults".
I suppose that this is the case with the X1DII, its a REAL camera and not a premium gadget, and very honestly I would love to have it in my camera bag.

Yes, its missing some basic stuff that even entry level cameras might have, but on the other hand, what it gives you back is way more important.
It honestly reminded me of the days of film photography and on many occasions I had the feeling that I was holding an analog camera, photographing without looking on the back LCD..

It will not make you look a better photographer only because its a premium camera with a historic name that everyone recognizes, nor because it has a bigger and very powerful sensor than an FX/DX camera.
It will make you better (in the long run) because it will make you to prepare and think even more about your shots, without having in mind all the software stuff and gadgets.
In the end, Ferrari potential buyers are not waiting for a "review" to decide to buy the car they dream, they just know it..
Conclusion Q&A
Is this camera for everyone (who can afford it)?
If you are used in other camera systems and ergonomics, for sure it will frustrate you in its use, at least in the begining.
If your budget can afford buying this camera (and lenses), please keep in mind that despite being a slow laggish camera with its own type of logic, in the end it will "repay" you with stunning quality in your images.
Which type of photographers should consider this camera? 
Portrait, fashion, editorial, product and still life photographers should definitely consider this camera as the outstanding image quality along with the high resolution and fantastic detail levels will drastically improve the result of their professional work.
Wedding photographers should consider this camera only if they are shooting staged/posed scenes without fast action, as the AF is not only slow but has lots of issues (lagging, hunting, noise).
Landscape photographers will have to keep in mind the fixed screen that might not be so helpful on some occasions and the small battery life, but on the other hand should definetely consider the amazing image quality.
Street and travel photographers should consider the shutter lag, the small battery life, the slow AF and the overall slow response after taking the image.
Astrophotographers and low light photographers should probably check somewhere else.
Is it worth the money?
This is probably the 1 million dollar question, and the response is not so simple. So, I will only speak for myself.
I would love to have it in my bag, but only to use it on professional staged work or projects (in example in a portrait project) or a high quality fine art landscape scene.
It is not ideal for astrophotography or timelapse, and it cannot record video, so I cannot use it in my everyday professional work.
| | |
| --- | --- |
| Build Quality: | (9.6 / 10) |
| Handling: | (7.2 / 10) |
| Size and Weight: | (6.0 / 10) |
| Image Quality: | (9.9 / 10) |
| Features: | (5.9 / 10) |
| Focus Speed: | (5.5 / 10) |
| Focus Accuracy: | (7.0 / 10) |
| Value for Money: | (6.5 / 10) |
| Average: | (7.2 / 10) |
As said before, ratings are not important for this camera. It's a Hasselblad, a premium camera with excellent image quality.
Want to get notified when a new review is published?
Consider subscribing to my Newsletter!