Total Views: 3,238
Daily Views: 1
Tokina Firin 100mm F/2.8 FE Macro – First Impressions

UPDATE 2019-12 -> Adobe released a lens profile for Firin 100mm F/2.8 FE MACRO in the latest update of Camera Raw (LR Classic 8.4 / Camera Raw 11.4)
*Please note that at the time of writing this review, Adobe hasn't released a lens profile for Tokina Firin 100mm FE  F/2.8 Macro lens*
***

Reading Time:

15

minutes

***
Its been quite some time since I used a macro lens due to the nature of my commercial work. Still, I was always fascinated from the different perspectives a macro lens can provide, of getting very close to a tiny object and see all these great details closely.
Tokina Firin 100mm F/2.8 FE Macro lens was showcased for the first time in public and media, back in September 2018 in Photokina (Cologne, Germany).
The Tokina Firin 100mm F/2.8 FE Macro is the second lens in the premium Firin series lineup for Sony E-Mount camera users, following the first Firin 20mm F/2 (comes in AF & MF versions) lens which was released in 2018 (AF version Review : Read Here).
Firin 100mm Macro is a moderate tele macro lens for Sony E-mount mirrorless cameras. It works both in full frame and crop cameras, providing unique close-up perspectives.
Build Quality & Exterior Design
The lens, which is made in Japan, is following the new modern and beautiful matte black design of the Firin series and is built with high quality plastic which results in reduced overall weight.
The lens is not very big in terms of size, although when reaching the minimum focusing distance of 30cm (1:1 magnification) and the front part of the lens is fully extracted (the inner tube extends for an additional 5.5cm), it can feel a little front-weighted. Still, in my opinion, its size is a perfect fit for Sony A7 series.
The mount is made of metal, and although the lens does not have a rubber ring in the back to prevent dust penetration, there is a soft velvet cloth on the rear compartment of the lens that can hold incoming dust before reaching the rear element.
The electronic contacts in the mount provide full compatibility with Sony A series cameras, which means that 5-axis image stabilization, EXIF information, DMF adjustments, MF auto enlargement assist function and focus peaking are working perfectly with this lens.
Distance information is also transmitted via the electronic contacts to the camera, although there is also an engraved distance scale on the extracted inner tube of the lens which shows the focusing distance and the magnification reproduction, something that I found very helpful on most occasions.
The big rubber ring near the front of the lens is the focusing ring. It is quite large making it easy to get a good solid grip, even if in example the photographer is wearing gloves, and it has a very smooth feeling in its operation when focusing. A small mechanic/rotor sound can be heard when the focusing ring is turned abruptly but its totally natural so there is no reason to worry.
There isn't any AF/MF switch on the lens, as it is possible to override autofocus at any time if needed.
The package includes a lens hood (BH-553), that can be stored in the lens by attaching it on reverse. The lens hood also has a soft velvet cloth in its inside to hold any possible angular incoming light to reach the front element of the lens and thus prevent any unwanted flare or ghosting artifacts that will reduce image quality. Of course, due to the lens nature of getting very close to the subjects, it also protects the front element from scratches or unwanted hits.
Lens Handling & Usage
The physical length of the lens is changing depending on the desired focusing distance, as the inner tube of the lens extends forwards to a maximum of 5.5cm (at 1:1 magnification).

One very nice feature of this lens is that when the camera is turned off, the lens is automatically retracted inside to its "home" position, and when the camera is turned on again, the lens is extracted to the point (focusing distance) where it was left the last time. Really helpful feature especially when the subject is static and the camera is on tripod so you don't have to worry about focusing again, or when the camera is turned off automatically to save battery consumption.
Macro

The lens is capable of 1:1 reproduction, which means that the subject in front of the lens is depicted on the sensor in its actual size.
At 1:1 magnification reproduction (focusing distance of 30cm) the working distance between the lens and the subject is 11.53cm which can make the photographer feel more comfortable.
The fast aperture of F/2.8, which can only be changed electronically, remains constant even when the lens is fully extracted and focused at 30cm (1:1 magnification), and in overall provides excellent performance even when working on low light conditions.
Due to its macro specifications, the lens has extremely high resolution, low distortion and low falloff, and besides macro/close-up shooting, can also be used for landscape photography, art reproduction, even on astrophotography, something that adds many positive points to the lens usage versatility.
The produced bokeh is soft and beautiful so the lens is also a great choice for portrait photographers as well.
Sharpness
In terms of sharpness, the Tokina Firin F/2.8 FE Macro performance in overall is fantastic as the lens delivers very good to excellent sharpness levels in the center of the frame, while also produces very good sharpness levels as well at the corners.
According to my tests and being more specific, although as already said the lens is producing very good sharpness levels at any selected aperture, the sweet spot of this lens is at f/11. After f/16 details are starting to soften a little, although images are for sure totally usable, and at f/32 everything is quite soft.
Sony A7mkII – Tokina Firin 100mm F/2.8 FE Macro on Slik Pro CF-734 Tripod
Focusing Distance at 0.30m | Light Source : Two (2) Yongnuo YN-360II Led Lights
Optical Performance & Aberrations
Colors are reproducing naturally and beautifully, with rich tones (although not oversaturated), and contrast is kept at medium/normal levels across the entire image, producing very pleasing images with life-like looks.
Field Curvature is a common optical problem that causes a flat object to appear sharp only in a certain parts of the frame, instead of being evenly sharp across the frame. This happens due to the curved nature of optical elements, which project the image in a curved manner, rather than flat. And since all digital camera sensors are flat, they cannot capture the entire image in perfect focus. (source)
The Tokina FíRIN 100mm F2.8 FE MACRO optical design suppresses curvature of field down to zero while maintaining high resolution natural color reproduction across the entire image along with extremely low distortion, low falloff and perfectly controlled chromatic aberration. Multi-coating applied to optical elements effectively controls flare and ghosting.
Chromatic aberration can be seen sometimes when focused at 30cm and when the subject has areas of difficult high contrast transitions. Although Adobe still hasn't released an official lens profile for Firin 100mm, Chromatic Aberration can be removed very easily either in Lightroom on Photoshop in the Lens Corrections Tab.
Specifically for astrophotography, from my few tests so far, I haven't seen any signs of Comatic Aberration (Coma) when shooting wide open, resulting an excellent performance.
Due to its flat field optical design, high resolution and its amazing sharpness even wide open, the lens is highly suggested for deep-space astrophotography.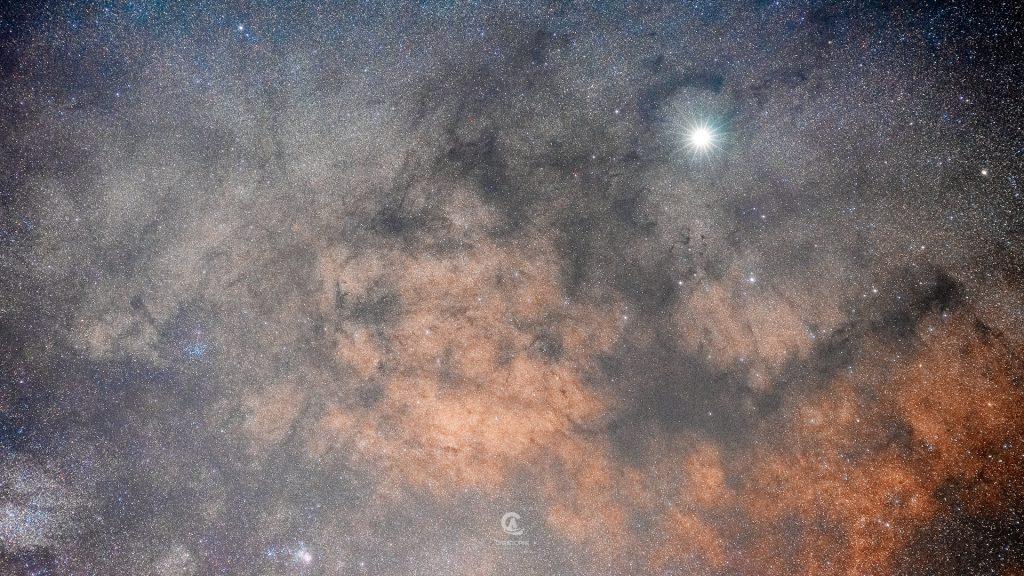 Autofocus
Due to their nature and optical design of extremely close focusing distance, macro lenses are not famous for their very fast autofocus abilities.
From my tests so far I found Tokina Firin 100mm F/2.8 FE Macro autofocus speed to be normal and accurate on general conditions.
When shooting landscape, even in dim light conditions, the lens is focusing fast and accurately on infinity.
On macro/close-up photography the autofocus speed is slowing down a bit, as the front part of the lens is extracting, and there were times that AF was "hunting" (going back and forth) before achieving proper focus. As already mentioned, this is normal in my opinion.
Macro photographers after all would want to focus manually on their selected spot rather than simply rely on the AF for their work, or want to use multiple different focus points for focus stacking processing.
The little spider on the following example was sitting still and the lens managed to get an accurate focus automatically relatively easy.
Sony A7mkII – Tokina Firin 100mm @ F/11, 1/100s, ISO 640, Handheld
Technical Specifications:
1. Mount Type: Sony E
2. Focal Length : 100mm
3. Compatible Format(s): FX, DX
4. Maximum Aperture: f/2.8
5. Minimum Aperture: f/32
6. Angle of View (FX-format): 24.30
7. Macro Ratio: 1:1
8. Elements: 9
9. Groups: 8
10. Multi-Coating: Yes
11. Electrical Contacts: Yes
12. Diaphragm Blades: 9
13. Filter Size: 55mm
14. Image Stabilization : N/A
15. Autofocus: Yes
16. Focus Mode: AF/MF
17. Minimum Focus Distance: 0.30m
18. Length: 123mm
19. Diameter: 74.mm
20. Weight (Approx.): 570 g
Distortion Curve (Infinity)
Conclusion
An excellent option in the limited macro lenses line-up for Sony E-mount users, with fantastic image quality, excellent sharpness levels and high versatility that gives the ability to the photographer to capture different subjects very easy, packed in a beautiful modern looking and relatively compact and lightweight body that comes in a very affordable price !
Want to get notified when a new review is published?
Consider subscribing to my Newsletter!