Tokina atx-m 85mm F1.8 FE Review
*February 3, 2020 – Please note that at the time of writing this review, Adobe hasn't released a lens profile for Tokina atx-m 85mm F1.8 FE*

***

Reading Time:

35

minutes

***
Intro
In the last couple of years Tokina has introduced two (2) new series of lenses for DSLR users, Opera and atx-i, and the Firin series of lenses for mirrorless users, each one of these lenses having great reviews about their exceptional optical quality and high performance.
Now its time for another series of lenses, one more for the very demanding and fast growing mirrorless market.
The new line is called "atx-m", and the début lens of these series is the atx-m 85mm F/1.8 FE, a newly designed medium telephoto prime lens for Sony E-mount cameras.
In comparison to the premium high-end Firin series for pro mirrorless users, the new atx-m series will be more affordable and accesible to the market, targeted to semi-pro users, while also retaining high optical quality and advanced technologies.
The lens is being manufactured according to Sony-licenced specifications, something very important that reassures high quality and latest functions.
In other words, that ensures that the product was designed and manufactured according to the optimal standards, and its not a case of reverse engineering.
As for the name of the new series, the preservation of the "atx" word is ensuring that Tokina advanced technologies are present in this new line of lenses as well, while the "m" letter, who stands for "motif" and "mirrorless", means that the design and specifications of the new lenses of this series, will help the photographer create unique and breathtaking photos with mirrorless cameras.
Total Views: 6,583
Daily Views: 1
Build Quality, Lens Handling & Design
The new atx-m 85mm FE lens has a modern and sleek design, very similar to Firin series lenses, following the guidelines of all the new Tokina lenses of the last two years.
The lens has a deep black glossy paint finish comparing to the subtle matte black finish of the Firin series lenses, and in terms of exterior design this is probably the only difference between them.
Left: Tokina atx-m 85mm F1.8 FE  |  Right: Tokina Firin 20mm F2 AF
However, when used on a smaller body, in our case the Sony A5000, it feels enormous and totally "dwarfs" the camera body.

The mount is made of metal and unfortunately does not have a protective rubber ring to prevent dust penetration, a very common problem to all mirrorless cameras.
The electronic contacts on the mount are providing full compatibility with the camera body, which means that EXIF and distance information data, Eye AF, 5-axis Image Stabilization, Focus Peaking are working perfectly.
On the exterior there is no aperture ring on the lens as the aperture is being controlled electronically, and apart from the large focus ring, there aren't any other buttons or switches, as there is no distance information scale.
Lens Hood
The included BH-727 lens hood is made of plastic and it has a black matte finish, can be stored on the lens if attached in reverse, its size is normal and its not extending much when attached and it can protect the big front element from unwanted hits or scratches, as also prevents unwanted artifacts from incoming light.
The filter thread in the front takes regular screw-on filters of 72mm size and in case you are not going to stack two or three filters together, there won't be any visible vignetting caused by the filter thread.
*Testing Notes*

All indoor tests took place in my photography studio in a controlled lighting environment.
Dedicated lighting scenarios were created depending the needs  of each test.
The Lab Chart Test is "ISO 12233".
Other Tools used: i) SpyderCheckr24 & ii) Spyder LensCal.
The following cameras were used for the tests of this review: I) Sony A7 mkII, II) Sony A5000 and III) *Nikon Z6(via TZE-01 adapter).
*Please note that Tokina atx-m 85mm F1.8 FE lens (as also Tokina Firin lenses) was not developed to use with Nikon Z cameras so manufacturer does not guarantee lens performance when third-party mount adapters are used.*
However, I personally own a Nikon Z6 with Techart TZE-01 adapter, and I deciced to test this lens with my Nikon Z6, hoping the information to be useful to Nikon users as well.
Autofocus
The lens features an ST-M focus motor, which is nearly silent in its operation, and the Autofocus speed is very quick and accurate on my Sony A7mkII even when used wide open at F/1.8.

Eye-AF is also working properly and accurately, and in case of manual focusing, Focus Peaking and MF Assist function are working properly thanks to the transmittance of data via the electronic contacts.
Please note that there is no AF/MF switch on the lens, but accurate focus adjustment can be executed manually at any time by turning the focus ring when focus is set to DMF (Direct Manual Focus) mode".

The minimum focusing distance is 80cm, and in general I didn't encounter any issues when focusing close to subject.
As for Nikon Z users, when used on the Nikon Z6 with the TZE-01 adapter, the autofocus speed is still very fast and accurate, and actually feels like a native lens in terms of speed and accuracy. Eye-AF and Focus Peaking also working properly.
Autofocus in Video
For videographers, Full Time Autofocus (AF-F) works very good and reliably from f2.8 and after, as I noticed some slight hunting issues when a wide aperture was used. However, this is totally related to the contrast and distance difference between subject and background, so its not an issue that will be reproduced every time and for sure not something serious.
Optical Design
The lens features an optical design with 10 elements in 7 groups, including one (1) SD Low Dispersion Glass Element, which allows optimal resolution with sharp edge to edge results and minimal chromatic aberrations.
The lens also features Tokina's exclusive Super Low Reflection Multi-Coating which provides excellent contrast across the frame, as also natural color rendering and water/oil/dust repellent abilities.
Technical Specifications:
Mount Type: Sony E
Focal Length: 85mm
Compatible Format(s): FX, DX
Maximum Aperture: f/1.8
Minimum Aperture: f/16
Angle of View (FX-format): 28.5°
Elements: 10
Groups: 7
Diaphragm Blades: 9
SD (Low Dispersion) Glass Elements: 1
Filter Size: 72mm
Image Stabilization : N/A
Autofocus: Yes
Focus Mode: Autofocus with Manual Focus Override
Minimum Focus Distance: 0.8m
Length: 93.23mm
Diameter: 80.mm
Weight (Approx.): 645 g
Hood: Round Bayonet type BH-727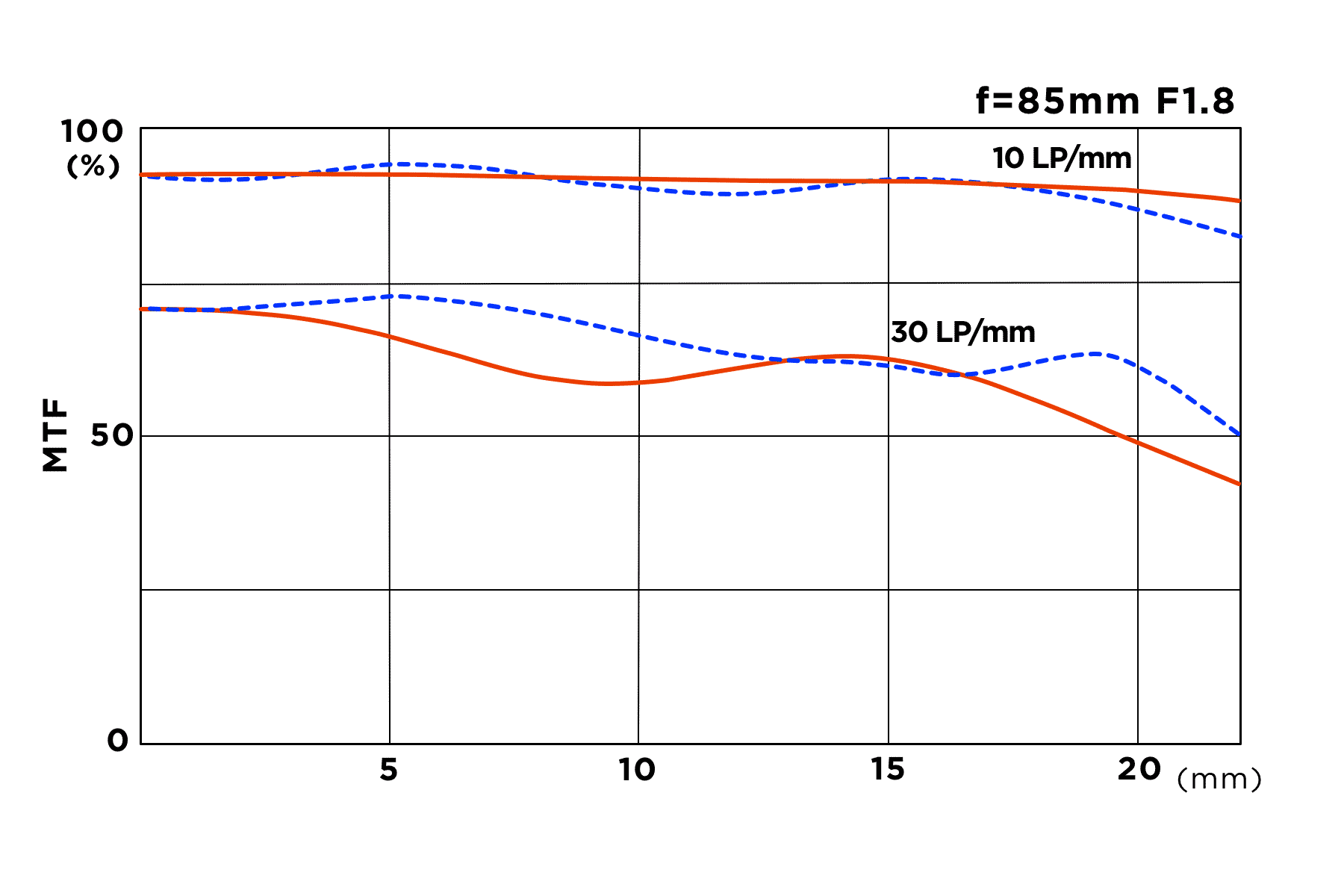 From F/4 till F/8 sharpness is in excellent levels in the center and very good at edges, scoring a fantastic rating in overall sharpness across the frame.
From F/9 Diffraction comes into play, reducing slightly overall image sharpness.
After F/11 overall image sharpness is reduced, delivering a good overall image sharpness, with some loss in detail.
Sharpness in Real Conditions

No matter how great may the lab tests be, as they can show potential flaws in lens design, in my opinion it is also very important to check the "real conditions" test outdoors.
In this simple landscape scene during twilight, the lab score was verified as the lens delivered very good sharpness levels from F/1.8 to F/2.8 in the center, and good levels at the edges, and excellent overall sharpness levels across the frame between F/4 and F/8.
Focus Shift

Focus Shift is an optical problem that can result in blurry images and many focus errors when working with wide aperture lenses and usually the subjects are in close working distance.

In the case of Tokina atx-m 85mm F1.8 FE according to my tests, there is no visible shift when changing aperture.
The target was a Spyder LensCal tool and it was placed at lens minimum focusing distance of 80cm.
Sony A7mkII on Slik ProCF-834 Tripod
Chromatic Aberration
Chromatic aberrations, or fringing, are those green and purple color halos around areas of difficult (high) contrast transitions.
In the case of Tokina atx-m 85mm F1.8 FE, Chromatic aberrations are very well controlled thanks to lens optical design, as the lens is having around 3 pixels or less of CA at all focal lengths and apertures, which can be easily removed in post without issues, even though at the time of writing this review, Adobe hasn't released a Lens Profile for automatic corrections in Adobe Camera Raw/Photoshop/Lightroom.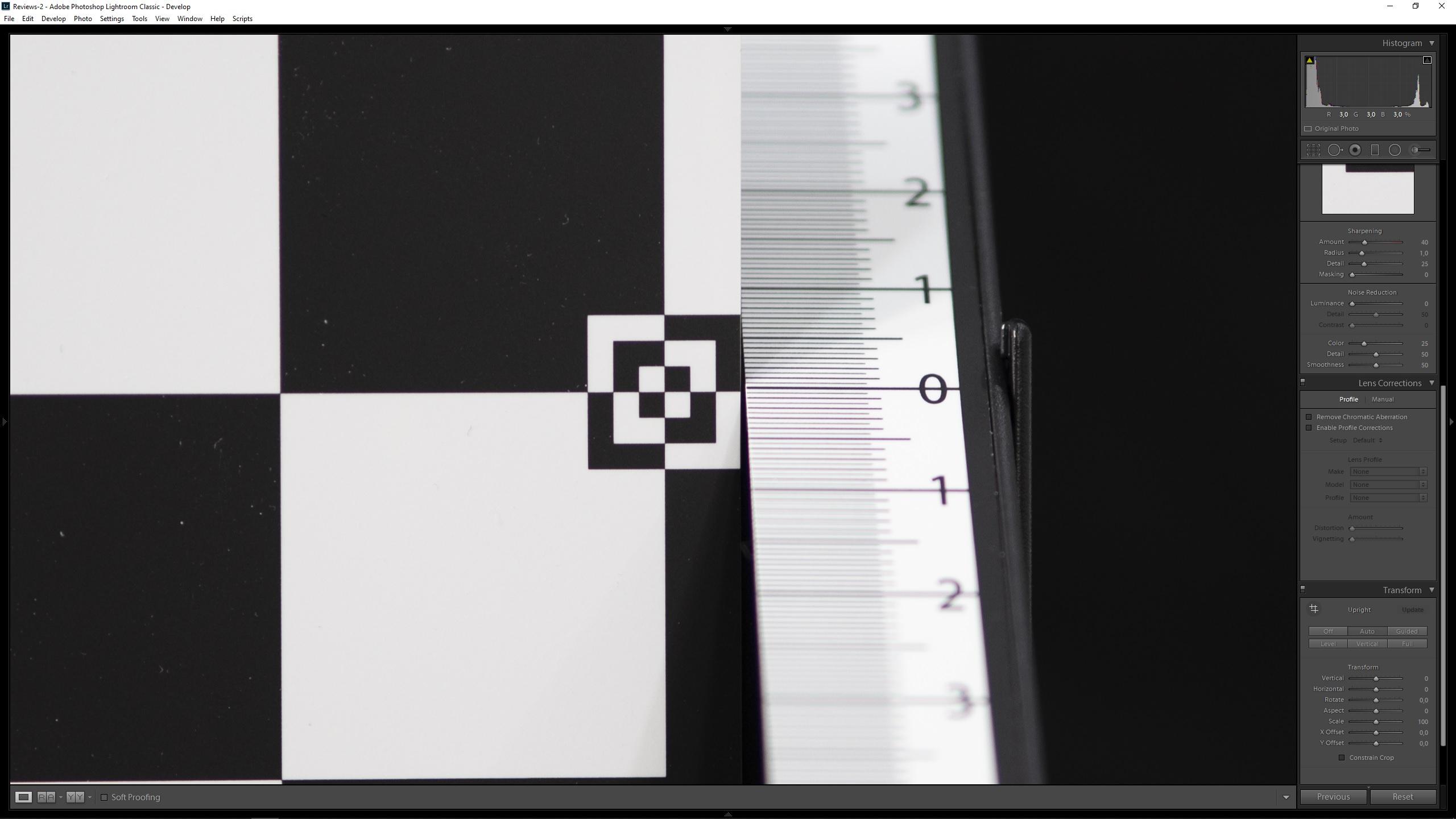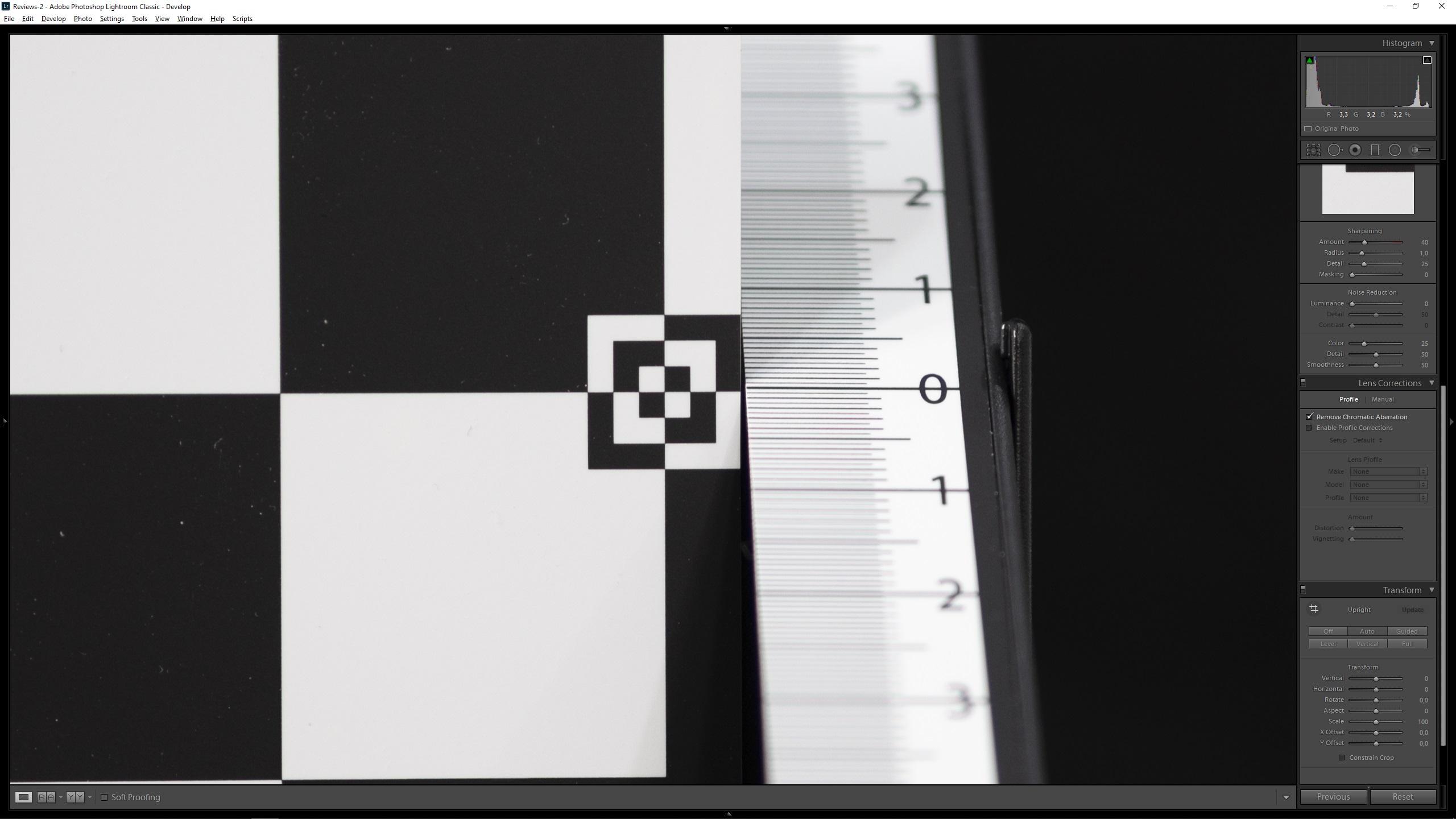 The test was performed in a controlled lighting scenario inside my studio.
The test subject was a Spyder LensCal tool and it was placed at lens minimum focusing distance of 80cm.
Camera was a Sony A7mkII which was mounted on a Slik ProCF-833 Tripod and Slik PBH635AS Ballhead.
In my test, Chromatic Aberration is visible from F1.8 to F3.2, and is completely gone from F3.5 and after.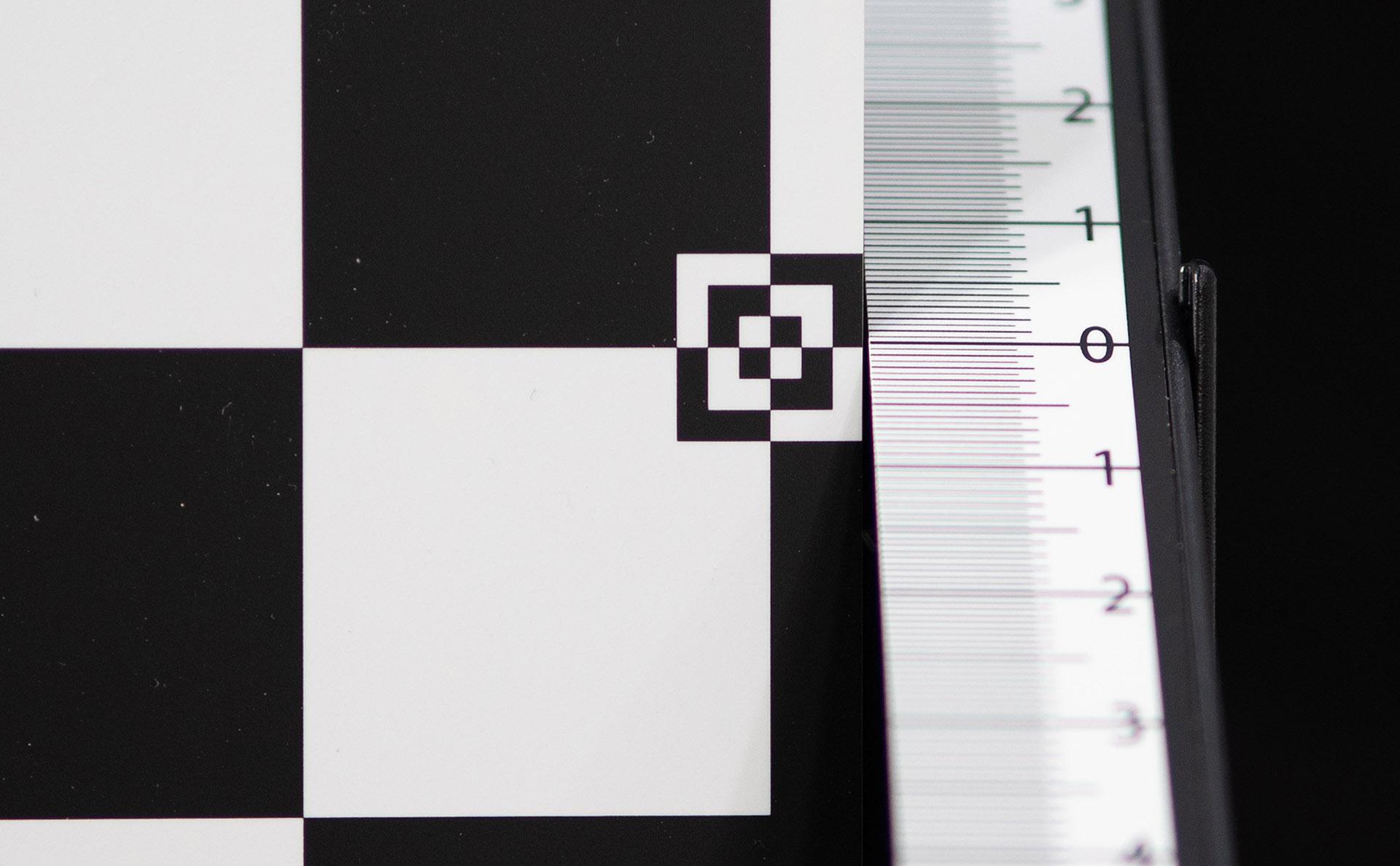 Flaring
Thanks to Tokina's Exclusive Multi Coating technologies, the atx-m 85mm F1.8 FE lens performs very good when shooting against very bright sources of light.
In all my tests for this review, there are slight signs of flaring after F/8, which are easy to remove in post.
Color Rendering

As mentioned before, due to Tokina's exclusive Super Low Reflection Multi-Coating, the Color Rendering of atx-m 85mm F1.8 FE is excellent.
The lens delivers natural like colors without oversaturation. Color rendering is also bound to Contrast and the lens contrast performance is also very good, as it captures accurately the boundaries of areas with different luminance levels.
Vignetting

There is a moderate amount of light fall-off towards the borders from F/1.8 to F2.8 which can be corrected on post.
Stopping down reduces the amount of vignetting, and from f/4 isn't visible.
Still for most subjects this is not an issue, however as already said, it can be fixed in Adobe Camera Raw/Photoshop/Lightroom.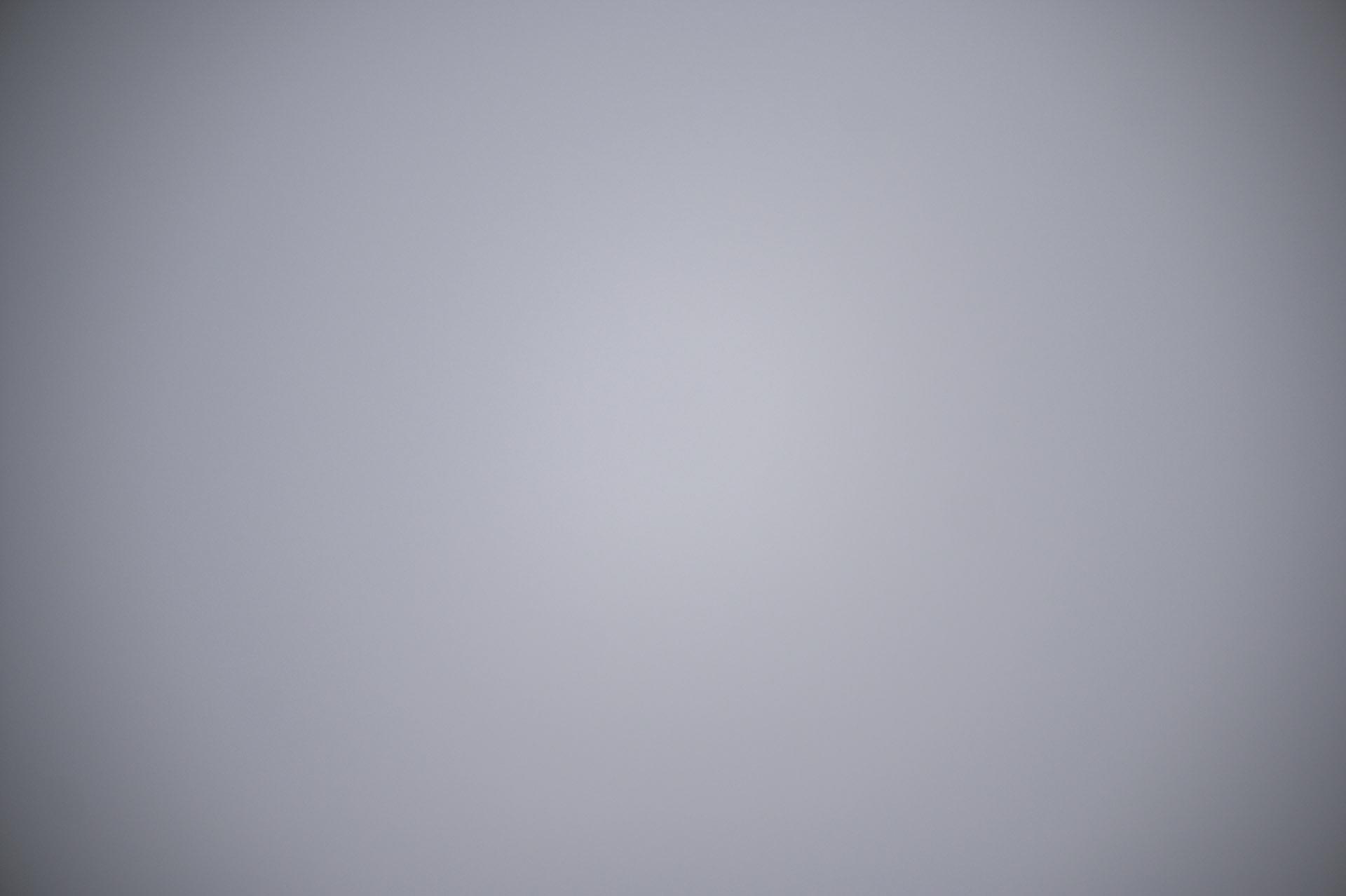 Comatic Aberration (Coma)

Coma is an optical aberration that afflicts off-axis light and it is caused by the curvature of the principal planes of the optical system.
Coma becomes apparent when the light rays from the source enter the lens at an indirect angle causing the image to be off axis.
The result is a comatic spot in shape, having a bright central core with a triangular flare extending toward the optical axis of the lens.
In the case of Tokina atx-m 85mm F1.8 FE lens, it can be seen in minor values near the edges of the frame when wide open from f/1.8 to f/2.8, and it renders invisible from f/3.2.
Still, in case of using this lens in astrophotography and due its focal length, I suppose it would be mainly used for deep sky astro and not wide, so if stopped down to f/4 for increased details, there won't be any visible signs of coma.
Distortion
According to my tests, there is a slight pincushion distortion, but nothing serious and in general it won't affect your images.
Conclusion
A great option in the medium telephoto range, an ideal prime lens for ambient light images and videos, like portraits, landscapes and street shots, with excellent optical quality, smooth bokeh, fast and accurate autofocus, packed in a solid build and premium looking body, and all that, in a very competitive and affordable price which is going to establish it in the top ranks of the demanding mirrorless market.
Ratings
| | |
| --- | --- |
| Build Quality: | (8.5 / 10) |
| Handling: | (7.6 / 10) |
| Size and Weight: | (6.5 / 10) |
| Optical Performance: | (9.1 / 10) |
| Bokeh Quality: | (8.8 / 10) |
| Features: | (5.9 / 10) |
| Focus Speed and Accuracy: | (9.0 / 10) |
| Value for Money: | (9.2 / 10) |
| Average: | (8.1 / 10) | Highly Recommended!
Want to get notified when a new review is published?
Consider subscribing to my Newsletter!