Tokina atx-m 56mm F1.4 X Review
Optical Design Graphs of this review were taken from the official Tokina website (www.tokinalens.com).
All other photos of this review were captured by Christophe Anagnostopoulos.
July 16, 2021 -> Full Review was published.
*Please note that until the time of writing this review, Adobe hadn't released a Lens Profile for Camera Raw/Photoshop/Lightroom.
***

Reading Time:

38

minutes

***
Intro
Tokina has completely changed its full lenses line-up the last couple of years, introducing and releasing five (5) new series of lenses, including the redesign of their best selling atx series, following the needs of photographers and videographers nowadays.
All of the latest Tokina lenses are of highest quality and optical performance, and are currently available for the most popular camera mounts, covering most focal lengths with types of lenses from ultra wide angle, to premium primes and macro, giving the ability to both the professional and enthusiast photographers to capture some amazing photos and videos in almost all photographic genres.
Back on November 2020, Tokina became the first major Japanese third party manufacturer that entered the very popular Fujifilm X Mount system.
With the release of the tiny but great in performance 23mm F1.4 X and 33mm F1.4 X lenses, Tokina provided in the beginning the two most popular focal lengths in prime lenses.
Now, only six months after that release of those lenses, announces the release of the third lens for the X mount, the new atx-m 56mm F1.4 X.
Tokina preserved the "atx" word in the name of the new series, which is ensuring that advanced technologies are present, while the "m" letter, who stands for "motif" and "mirrorless", means that the design and specifications of all the new lenses of the series will help the photographer create unique and breathtaking photos with mirrorless cameras.
Why 56mm?
The focal length of atx-m 56mm on a Fuji X camera is the equivalent of 85mm on a Full Frame sensor, which is a great choice for portraiture.
As a short tele lens it can be used on a variety of situations like in weddings (as a "pair" with the 23mm), for portraits in studio or outdoors, as also in landscape photography, capturing distant, far away objects. 
Fuji X Mount
The Fuji X System is one of the most popular currently on the market, despite not being Full Frame, mainly because of the excellent image quality of Fuji cameras and most importantly for the analog, film-like feeling in terms of result in photos as also in overall user experience.
Fuji is one of the very few camera companies originating from the analog/film era that completely understood the needs of the digital/modern industry and fully adapted to that, while maintained at 100% its mentality and philosophy.

Build Quality, Lens Handling & Design



The lens has an identical design with the previous released 23mm and 33mm lenses, following the guidelines and standards of all the latest Tokina lenses.
The Tokina atx-m 56mm F1.4 X lens has a sleek, minimalistic, modern and compact design that fits perfectly to the Fuji camera style.
The lens has a metallic housing with a subtle glossy black finish, and it is made in China with high quality standards and materials.
Its overall build feels very robust and solid at touch, and although it isn't weather sealed, its overall built quality feels like it can withstand some normal weather elements or light hits.
Size
Despite its metallic construction, the weight of the lens is only 315g (without the lens hood and front/rear caps), and has a physical size of 72mm x 62mm.
The lens is very small and lightweight which practically means that you can easily leave it attached on your camera all day without tiring, fitting perfectly on all Fuji X System cameras, from the smallest to the biggest models.
Mount
The mount is made of metal and it doesn't have any dust protective rubber ring.
The electronic contacts are providing full communication with the camera body so all in-camera corrections will be applied, and in case the camera model is one of the latest with IBIS (i.e. X-H1, X-T4, X-S10), then the 5-Axis Image Stabilization will work perfectly.
Please note that there is a small sealed plate on the mount. As Tokina informed me, this is part of the internal production and adjustment process.
Fujifilm AF Protocols?
Although there is no official information about a possible connection between Tokina and Fuji, I strongly believe that the lens was manufactured according to Fuji AF protocols.
My thoughts are based on a press release from a Fuji official back on April 2020,  shortly after Tokina first announced the development of the new atx-m 23mm F1.4 X lens, that their lens protocols are open and Tokina is the first to take advantage of it.
If this is indeed correct, that practically means that no reverse engineering has been used in the design of this lens, and that ensures the best possible lens performance.
Focus Ring
The focus ring has a large size, covering more than 60% of the lens barrel, with a good solid grip.
It has a very smooth feeling when focusing, offering the proper level of resistance to the user.
In addition with the "Linear" Focus Ring Operation option in the camera menu, the manual focus experience resembles (in a certain point) that of a mechanical focusing lens.
The lens utilizes the Focus-By-Wire implementation for focusing, something that allows smoother and silent autofocus.
In general I found it very easy and simple to achieve manual focusing in almost all situations, both in daytime and at low light.
Aperture Ring
Following the Fuji design philosophy, the lens features a dedicated Aperture Ring to provide the best possible user shooting experience.
As the lens is identical with the previous Tokina atx-m X models, it is way smaller than the focusing ring but it has a good solid grip, and it is located near the mount so its unlikely to be changed accidentally.
However, there is a difference compared to the previous two lenses, in terms of changing the aperture by hand.
In both the 23mm and 33mm lenses the aperture ring was stiffer, but now on the 56mm lens it feels more loose. Not entirely loose, but for sure way more than the previous lenses of the series.
I personally prefer the stiffness of the previous models, although I didn't encounter any issues with the aperture ring on the 56mm lens.
Once again the aperture ring is click-less, providing the ability to the user to manually change the aperture very smoothly (extremely helpful in video mode), while also having an "A" position for Automatic Aperture change directly from the camera.
However, there is a soft clicking mechanism between F16 and A positions to prevent accidental miss-setting.
Lens Hood
The included BH-525 Lens Hood is made of metal and it can be stored in the lens by attaching it on reverse.
It has a relatively big size, nearly doubling the lens when the hood is attached, but it fits well with the overall lens looks.
As with most lens hoods, it can protect the front element from unwanted hits or scratches, while also prevent any unwanted artifacts from incoming light.
Filters
Lastly, on the front of the lens, there are no markings like in example mentioning the lens model.
The filter thread takes regular screw-on filters and it has a diameter size of 52mm, which is more than great as the photographer can use the same filters for all three lenses of the atx-m series!
*Testing Notes*

All indoor tests took place in my photography studio in a controlled lighting environment.
Dedicated lighting scenarios were created depending the needs  of each test.
The Lab Chart Test is "ISO 12233".
Other Tools used: i) SpyderCheckr24 & ii) Spyder LensCal.
The camera used for this review was a Fuji X-T3 with Firmware version 4.00.
*Disclaimer*

I'm a Global Ambassador of Tokina since 2017, however this is not a paid post, and I'm only expressing my personal thoughts and experience using the new Tokina atx-m 56mm F1.4 X lens.
Autofocus in Photography
The lens features an ST-M focus motor, which is almost totally silent in its operation.
The autofocus speed is very quick and accurate on my Fuji X-T3 even when used wide open at F/1.4.
Eye-AF is also working very accurately and fast, and in case of manual focusing, Focus Peaking function is working properly thanks to the transmittance of data via the electronic contacts.
Please note that there is no AF/MF switch on the lens, but accurate focus adjustment can be executed manually at any time by turning the focus ring.
The minimum focusing distance is 60cm, which is very good considering the focal length and aperture of the lens, and more specifically is one of the lowest compared to other similar focal length lenses.
Autofocus in Video
Everything that was mentioned on the previous Autofocus part for stills, also applies in Video Shooting as well.
The lens focus motor is silent, so the chances of recording the focus motor are minimal (except if its deadly quiet out there).
Regarding AF speed, tracking and accuracy the lens performance is very good, making it a great option for run-and-gun/gimbal video shooters, like in example in weddings.
Optical Design

Despite its relatively small size, Tokina Technology is 100% present, as the lens features a complex optical design with 10 elements in 9 groups, including one (1) Super-Low Dispersion Glass Element, which is eliminating chromatic and spherical distortions, as also reducing any ghosting and flaring. By using this design, the lens allows optimal resolution even with the aperture wide open at F1.4.
Tokina's exclusive Super Low Reflection Multi-Coating is present as well, providing very good contrast levels across the frame, with natural color rendering and water/oil/dust repellent abilities.
Lastly, the lens features a diaphragm of nine (9) blades and the angle of view is 30° degrees. 
Technical Specifications
Mount Type: Fuji X
Focal Length: 56mm (85mm equivalent in FX)
Compatible Format(s): APS-C
Maximum Aperture: f/1.4
Minimum Aperture: f/16
Angle of View (FX-format): 30°
Elements: 10
Groups: 9
Diaphragm Blades: 9
SD (Low Dispersion) Glass Elements: 1
Coatings: Multi-Coated
Filter Size: 52mm
Image Stabilization : N/A
Autofocus: Yes
Focus Mode: Autofocus/Manual Focus
Macro ratio: 1:10
Minimum Focus Distance: 60cm
Length: 72mm
Diameter: 62mm
Weight (Approx.): 315 g
Hood: Round Bayonet type BH-525 (included)
Focus Shift

Focus Shift is an optical problem that can result in blurry images and many focus errors when working with wide aperture lenses and usually the subjects are in close working distance.

In the case of Tokina atx-m 56mm F1.4 X lens according to my tests, there is no visible shift when changing focus.
The target was a Spyder LensCal tool and it was placed at lens minimum focusing distance of 60cm.
Bokeh
The nine (9) blade diaphragm of the atx-m 56mm F1.4 X lens, together with the wide aperture of F1.4 can create some really nice transitions between the in and out of focus areas, creating a delicate and beautiful bokeh.
Although the APS-C sensor in theory cannot create the same depth of field and end result comparing to a Full Frame sensor, I found the bokeh performance of the atx-m 56mm lens wide open at F1.4 to be very good in the center in terms of bokeh effect and rendition of the focused areas.
Chromatic Aberration
Chromatic aberrations, or fringing, are those purple and green color halos around areas of difficult (high) contrast transitions.
They usually appear around narrow dark regions that are over a bright background, like in example some tree branches over a sky background.
Tokina atx-m 56mm F1.4 X produces strong Longitudinal and Lateral Chromatic Aberrations, especially when wide open at F1.4.
However, based on the results of my tests, CA is around or less than 5 pixels and in most occasions they can be easily removed in post like in the examples below.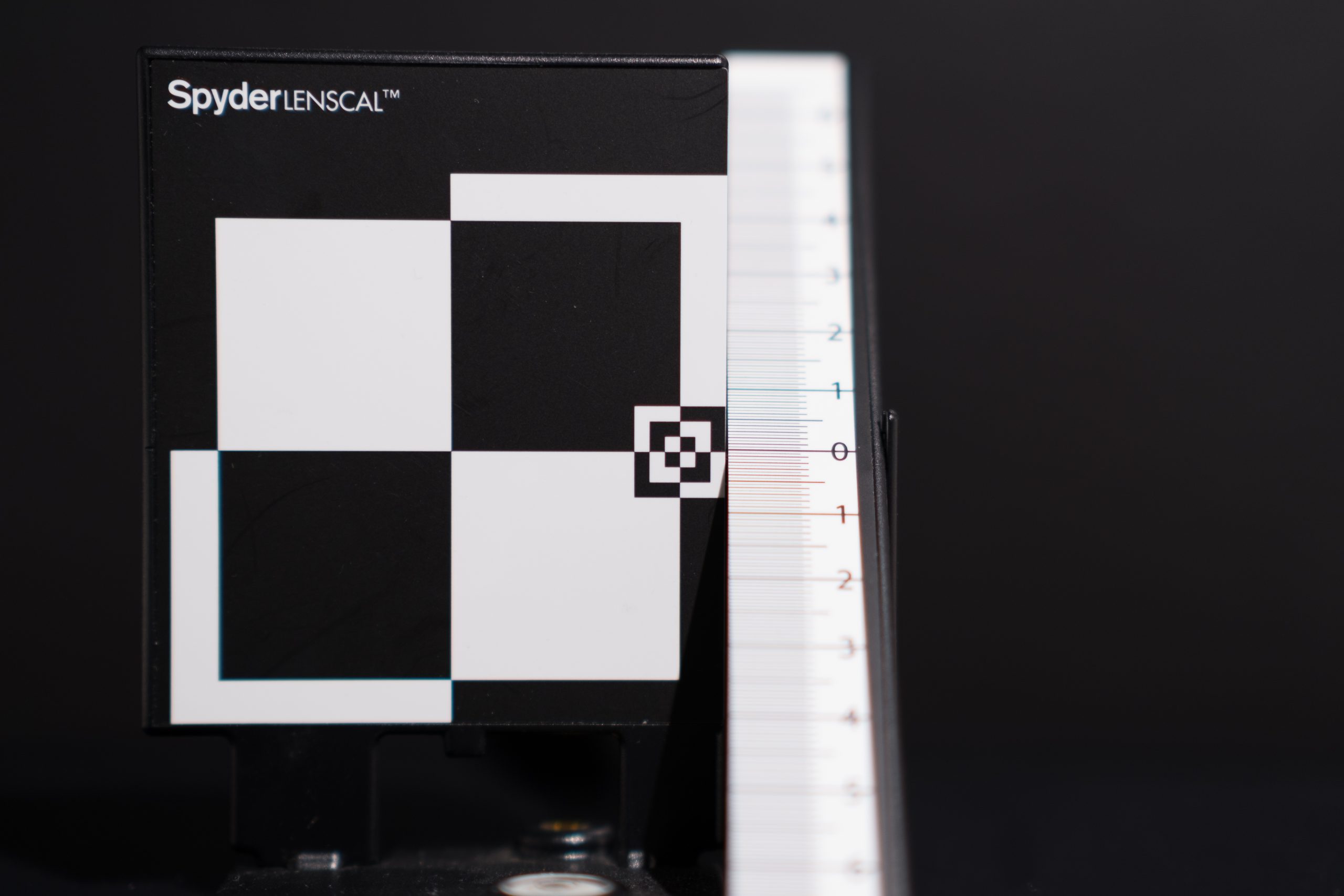 atx-m 56mm @ F1.4 – 1/125 – iso 160
atx-m 56mm @ F1.4 – 1/1600 – iso 160
Chromatic Aberration Lab Test
Flaring
Thanks to Tokina's Exclusive Multi Coating technologies, the Tokina atx-m 56mm F1.4 X lens performs very good when shooting against very bright sources of light.
Depending on the light source angle, there might be some very small signs of flaring, but on most cases it is very easy to remove them in post processing.
Color Rendering

As mentioned before, due to Tokina's exclusive Super Low Reflection Multi-Coating, the Color Rendering of atx-m 56mm is very good.
The lens delivers natural colors without oversaturation.
Color rendering is also bound to Contrast and the lens contrast performance is also very good, as it captures accurately the boundaries of areas with different luminance levels.
*Please note that depending on the Fuji Film Simulation style that you may have selected, colors are bound to be produced different in your Jpeg files (Raw files are not affected).
Color Contribution Index
CCI means Color Contribution Index, that measures the light transmission values of the lens. Particularly, it is a three number system which describes the degree to which a lens is expected to change the overall color of a photograph relative to that obtained with no lens in the system. Compared to the location of the ISO standard point, actual value point tends to be closer to warm tones (Yellow, Red), but stays within the ideal coordinates that proves natural and well balanced color reproduction ability of the lens.
(Information from Tokina Global Website)
Vignetting

There is a moderate amount of light fall-off towards the borders from F/1.4 to F2.0 which can be fixed on post.
Stopping down reduces the amount of vignetting, and from f/2.2 it renders invisible.
For most subjects this is not an issue, and I personally like it, as it creates a beautiful "separation effect" between the focused person/object and the background.
Comatic Aberration (Coma)

Coma is an optical aberration that afflicts off-axis light and it is caused by the curvature of the principal planes of the optical system.
Coma becomes apparent when the light rays from the source enter the lens at an indirect angle causing the image to be off axis.
The result is a comatic spot in shape, having a bright central core with a triangular flare extending toward the optical axis of the lens.
Although this lens was not designed for astrophotography, still I wanted to test it and see its performance.
As happens with almost all wide aperture lenses, the Tokina atx-m 23mm F1.4 X lens has strong coma levels wide open at F1.4 near the edges of the frame, as also a produced purple halo effect around the stars, but this halo effect can be removed in post processing.
From F1.6 to F1.8 coma and purple halo levels are improving, and at F2.5 they are eliminated almost completely.
However, due to lens focal length, I suppose that it could be used in conjunction with  a star tracker, and if stopped down to F2.8 or F4 for increased details, there won't be any visible signs of coma.
Still, as I said, this lens was not designed for astro shooters, and for sure can create some very nice low light images.
Distortion
According to my tests with the atx-m 56mm F1.4 X, there is a slight amount of barrel distortion, that can be easily fixed manually on post (Camera Raw/LR) as the moment of writing this review, Adobe haven't yet released any lens profile for Tokina atx-m X lenses line-up (23mm, 33mm, 56mm).
Personal Thoughts
Through this section of my reviews, I have many times expressed my thoughts, that the needs of most photographers nowadays are to have high quality and performance lenses (and cameras) with the smallest possible size factor.
With Mirrorless cameras users growing very fast, as almost all the latest camera models are offering strong solid performance and high image quality, small but capable bright aperture lenses with affordable price tags (especially after the pandemic) are potential winners, becoming easily best-sellers.
Tokina really excelled in both these aspects, delivering a solid overall performance-bright aperture lens, with the smallest possible form size, for its wide F1.4 aperture and focal length, that it can be used in both stills and video shooting.
The Tokina atx-m 56mm F1.4 X is a very exciting lens, that it can create some very beautiful photos and videos!
It is also very important that Tokina managed to maintain exactly the same physical size in the three lenses of the line-up, which practically means that a filmmaker/videographer can make use of all of them on a gimbal, with only minimal (or even none) micro-adjustments in terms of balancing!
I'm sure that those who (mostly) shoot weddings and/or events can understand how difficult and time consuming can be to change lenses when you use a gimbal during the event..
To conclude, I now wish that more lenses are coming soon in the atx-m series for the X-Mount, covering different focal lengths (ultra wide angle, macro, zoom) and sizes (pancake F2.8).
Conclusion
"A short tele lens that completes the atx-m X prime line-up at a very affordable price tag.
With a focal length perfect for portraiture, combined with the great image quality, its excellent rendering and beautiful colors, this lens a must-have in every photographer's bag.
The lens is sharp even wide open, the AF is fast, silent and accurate, and as in the case of atx-m 23mm and 33mm lenses, it comes in a beautiful, small and lightweight but durable body that fits perfectly the Fujifilm camera style."
| | |
| --- | --- |
| Build Quality: | (8.1 / 10) |
| Handling: | (8.2 / 10) |
| Size and Weight: | (9.4 / 10) |
| Optical Performance: | (8.2 / 10) |
| Bokeh Quality: | (8.3 / 10) |
| Features: | (7.1 / 10) |
| Focus Speed and Accuracy: | (8.9 / 10) |
| Value for Money: | (8.7 / 10) |
| Average: | (8.4 / 10) | Recommended!
Tokina became the first major Japanese third party manufacturer that released lenses for the very popular Fujifilm X Mount on November 2020!
Want to get notified when a new review is published?
Consider subscribing to my Newsletter!