*May 21, 2021 -> Review is published.
All  photos of this review were captured by Christophe Anagnostopoulos.

***

Reading Time:

21

minutes

***
Intro
In the last few months I have been making some changes in my photography gear in order to suit my needs better, as I am currently working on some new stuff (more info on another post, hopefully soon).
Photography gear is not just the camera, the lenses or the tripod.
Usually a photographer is carrying many accessories with him, covering either basic or advanced shooting needs.
Which leads us to the most often underrated photography gear, the bag that will carry all your equipment!
Total Views: 3,101
Daily Views: 1
Work Needs and Requirements
So, the first gear change was my backpack and in this post I will try and explain the reasons why I decided to make this change and obviously this selection.
But before proceeding with the new backpack, please allow me to write here what I have been using so far, in order to make a better picture on my specific needs and requirements.
Till the end of summer 2020 I have been mostly using two (2) camera bags that were suitable for each of my needs.
I have divided my shooting preferences in two major categories and being more specific:
Commercial Work/Events/Weddings
For all my commercial work I am still using the Lowepro Pro Runner RL x450 AWii which is basically a small portable studio.
It can take nearly everything that I might need for a professional commercial shooting like two (2) pro DSLR bodies with grip, 5-6 lenses plus accessories (batteries, cables, speedlights, etc), and although it is way too heavy to carry it on my back (with its retractable hidden shoulder straps), it is so easy to travel and go around with it as it is a roller bag.
For example, while I was in Photokina back in September of 2018 for workshops and lenses presentation, I have walked, explored and photographed with this bag almost the whole city of Cologne! Oh, and the bag also carried a small travel tripod as well (on the outside of course).
So as my commercial needs remain the same, this bag will remain as is for this type of work.
(image from official Lowepro website)
(BTS from "Forest of Tranquility")
Landscape/Astrophotography/Timelapse/Filmmaking
For my astrophotography and landscape work, I was using till recently my trusty Lowepro Flipside 400 AW.
A superb backpack that had travelled with me in many countries and in all kind of environments the last 10 years, serving me well no matter the weather or the location.
I really love this bag, but time is inevitable and for sure it had left its marks on my bag. The shoulder straps are totally worn out and it is not safe to carry it anymore.
So I felt it was time to make a change and buy something different than just a "pro-grade camera backpack".
(image from official Lowepro website)
(Nikon D3s, Tokina opera 16-28mm, Slik ECH-630 Astra star tracker)
Backpack Options
There are many excellent camera backpack options currently available on the market as you may know, with different styles and prices to suit everyone and every need, but almost all of them (no matter their price tag or the brand) have one negative thing in common.
Although these bags are great in taking and protecting our precious camera gear inside, they are not so great on protecting our back, especially if you wear it many hours per day. Like in example when hiking or even walking around a location to find the perfect spot for your shooting.
That's where hiking bags are in their best. This is their zone.
They are designed initially to protect your back while you carry lots of stuff with you in the mountains.
They can be big or small, coming in different capacities (in litres),  and can withstand the weather elements rather easily.
So I began searching online as I unfortunately couldn't visit any retail stores due to Covid Lockdown restrictions here in Greece.
List of Characteristics
I had set a list of things that the backpack should have which is the following:
1. Hatch / Front Panel opening
2. Lightweight but durable
3. Capacity of more than 28L
4. Waterproof, or with removable rain cover
5. Tripod Holder Straps
6. Discreet color and design
7. Price tag of 120€ max
My Choice
After a lot of search I decided to buy a brand new Lafuma Access 40 hiking backpack.
It is a mid-range backpack with a capacity of 40 litres and it is available in a very affordable price tag compared to the more popular hiking brands.
However, the main reason for selecting this bag was not its price tag but the provided ability to access my camera gear without opening the whole bag from the top (common in most hiking backpacks) through its front panel opening (this was my No.1 basic must-have).
*Disclaimer*

This is NOT a paid post.
This is a simple, 100% sincere post containing my personal thoughts and nothing else.
However, please note that some of the links in this post may be affiliate links that will help this website going, with NO extra cost to you.
Thanks for your support!
Characteristics



Build Quality
The backpack is made from durable materials and it features a lightweight aluminum frame that supports and distributes the payload weight better, protecting your back and feeling more comfortable when walking/hiking with it.
In the back there is also a basic ventilation design to prevent from sweat after some time of walking.
Due to its design and aluminum frame, it feels way lighter and more comfortable when carrying it on my back with the same amount of gear that I was carrying with my Lowepro Flipside 400 AW (more on that later).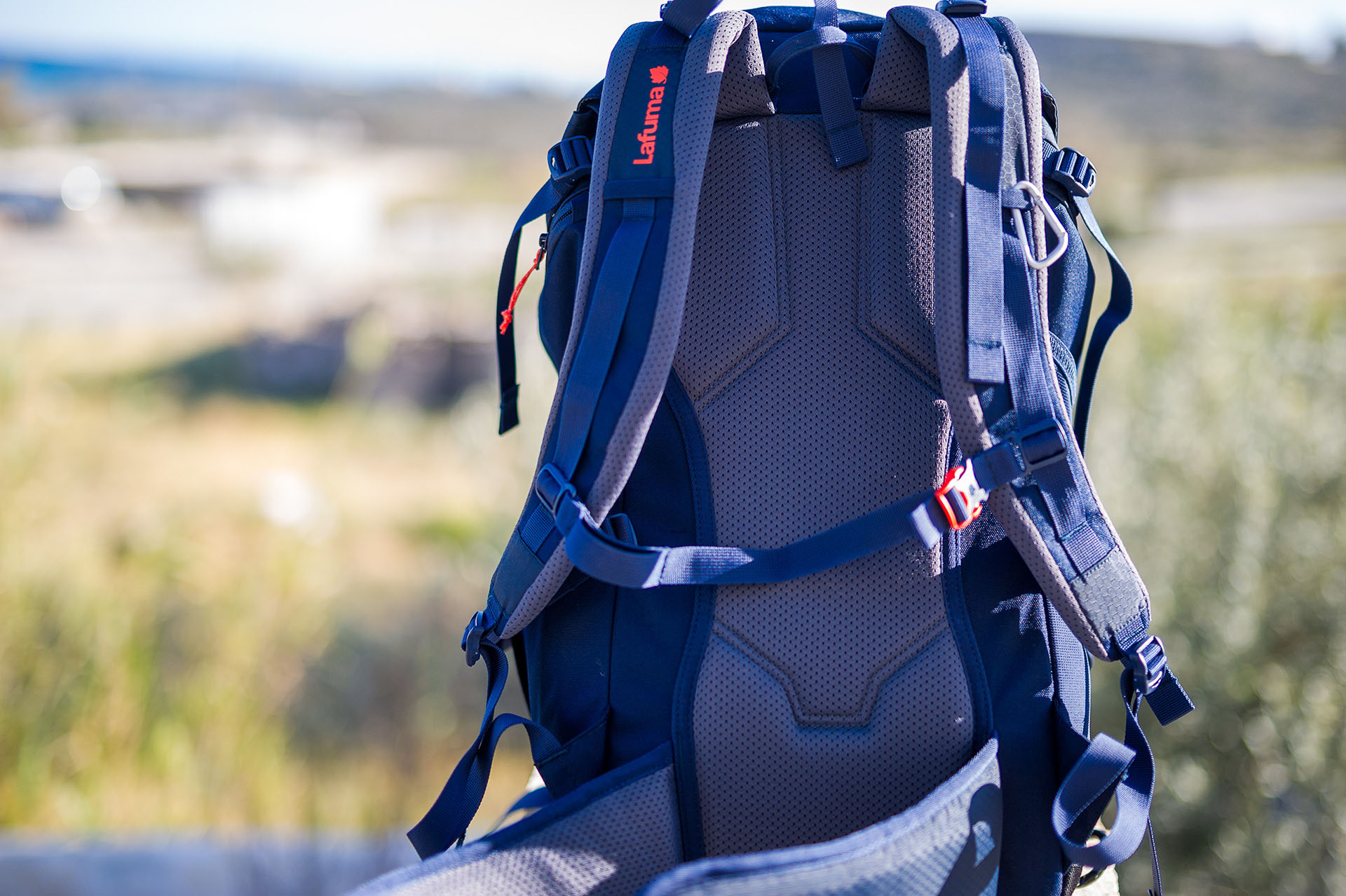 Pockets
Except the above, the backpack also features two (2) big zipped pockets, one in the top and the other on the side, as also two (2) meshed pockets for various stuff and one (1) rather small zipped pocket on the belt, possibly for storing your smartphone/keys or a small snack bar.
Other
It also has reflective details on the front for safety purposes, as also a detachable rain cover to withstand the weather elements, and in there is a compartment on the inside that can take a water hydration reservoir (sold separately).
Design
I am no expert by any means in hiking backpacks, but please note that except the front access point, all the above are very common characteristics among most these type of bags.
Lastly, the overall design is discreet (color choice is subjective), and one other big advantage is that in case you visit another country, the bag does not attract eyes as a dedicated photography bag would possibly do.
Main compartment has a storm collar
Front zip access to main compartment
Camera pocket
Document pocket
Front mesh pocket
Zipped, gusseted side pocket
Side mesh pocket
Removable rain cover
Pole holders
Gear carry straps on pack base
Side compression straps
Bladder compartment
Ergonomic shoulder straps
Large padded belt
Load adjuster straps
Sternum strap
Zipped pocket on hip belt
Reflectors.
Bag dimensions : Height 65 x Width 32 x Depth 26 cm
Height of the back : 48 cm
Volume : 40 L
Weight : 1100gr
1100 g
Fabrics
Main Fabrics : P 200D MINI RIP // 100 % Polyester //PFC Free durable water-repellent treatment ; Waterproofness : 1 000 mm
Other fabrics : P 600D OXFORD // 100% Polyester //PFC Free durable water-repellent treatment ; Waterproofness : 1 000 mm
Lining : P 210D 113T // 100% Polyester //PFC Free durable water-repellent treatment ; Waterproofness : 1 000 mm
*All Specifications are from official Lafuma website*
Hey Wait, Camera Gear inside a Hiking Backpack?
I suppose that this is the point where the obvious question comes:
How do I store safely my camera gear inside?
Well, this is rather easy to answer but before saying how, let me describe the gear that I currently have inside.
Two (2) cameras (as we speak: one Fuji X-T3 and one Nikon Z 7ii), four to five (4-5) lenses, various accessories like adapters, batteries, cables, Timelapse+ View intervalometer and filters. Please note that my tripod is on the outside.
There are also some personal items, clothing, some food and water as well.
Answering the question, I simply fitted inside some padded camera inserts from previous bags that I had in the past and I do not use anymore.
In case you do not have padded inserts available, or something that does not fit perfectly the inside (this is particularly important as the camera inserts must be stable and not jogging around as you walk), there are many options, either smaller or bigger, available to buy online and their price is very cheap.
My padded insert had a tight fit into the compartment, but in order to be even more stable, I applied some heavy duty Velcro on the sides as also on the bottom.
By the way, on the bottom I fitted between the padded insert and the outer fabric some strong but super lightweight and weatherproof foam in order to protect the camera gear from the down side when the backpack is left down.
In the main compartment I have another padded insert, which is removable on purpose, as depending on the needs of the shooting, I can decide if I will carry it or not with me.
In example, in a personal landscape or astrophotography-only 2 day trip, I might not get a second camera with me, in order to be more focused but also to enjoy nature better.
With this modular type of packing, and depending on your camera gear and more specifically on what you want to carry with you outdoors, there will still be lots of room available for personal items and clothing, making this bag a great option for 1-2 (and possibly 3) days trips in the mountains or even on another country/city*.
*In case of travelling with airplane, and although the bag is not very big in terms of size, it is advised to always check with the airline about the carry-on size restrictions in order to avoid any unexpected issues.
I could go with a smaller than 40lt backpack but my needs at the moment (upcoming project and commercial work) required this particular size capacity.
Any Negatives?
From my experience, all products no matter their price, their type or their brand label, have negatives, even if it is only one.
The question you must answer before buying a specific product is how much these negatives affect your style, and how can we (possibly) overcome them.
So let's write some negatives and see how can these affect my needs (in random order):
1. Although I have tested and used the backpack with full payload outdoors many times the last 4 months, I cannot say 100% how long the top and bottom orange locking straps will hold. They look and feel rather cheap, although they do their job till now as my tripod was always there on the bottom and so far, I didn't had any issues carrying it. In case I have any broken straps in the future, I will update this review.
2. The pocket on the belt is rather small, I would like it to be a little bigger, or even better, to have one pocket more on the other side.
3. There are no pockets on the shoulder straps. It would be great to have some small pockets there for small stuff, like batteries or memory cards.
4. In order to access your gear and although there is a front panel as mentioned before, you still have to leave your backpack down to the ground.
Practically this means that if the ground is wet or muddy, the back side will get dirty.
It is something to keep in mind, but personally I cannot say that this is a negative for me, as I was fully aware about it.
What I'm trying to say is that since I was looking for a front opening hatch as also an aluminum frame on the back, then in that case the back would obviously have to be more exposed to dirt etc. If the opening was on the back (like in the case of Flipside), then it couldn't be possible to have an aluminum frame.
Personal Thoughts
As stated before, I am no expert by any means in hiking backpacks.
I am a professional photographer/filmmaker and this is what I know to do best, but I enjoy searching different and not ordinary ways to do my job.
And such, I also like to use products that are not "popular", giving them a chance and checking how they stand compared to the competition.
Lafuma is a very good and respected hiking gear company with many years of experience, but at least here in my country (based on my online searches), it's not so popular so I decided to give this backpack a chance and I can honestly say that till today, I haven't regretted buying it even for one minute.
I feel very happy and comfortable using this bag for my photography needs (even though that it wasn't designed for this type of use), and actually since buying it and putting my camera gear inside, it had made me to want to go outdoors more and make photos!
Conclusion
"There are obviously similar or even better backpacks with higher specs than this on the market, but I'm really enjoying this bag from Lafuma and I can recommend it for landscape (astro)photographers with similar type of gear as mine, who are searching for a backpack like this and most importantly, in this budget."
Lafuma Access 40L can be seen in my latest commercial video work, produced for Cokin NX-Series Filter Holder System.
Ratings
| | |
| --- | --- |
| Build Quality: | (7.9 / 10) |
| Handling: | (8.7 / 10) |
| Size and Weight: | (9.1 / 10) |
| Capacity: | (8.9 / 10) |
| Features: | (7.1 / 10) |
| Price Tag: | (9.5 / 10) |
| Value for Money: | (10.0 / 10) |
| Personal X Factor: | (8.8 / 10) |
| Average: | (8.8 / 10) | Recommended!
Want to get notified when a new review is published?
Consider subscribing to my Newsletter!